GONZO's Speed Grapher: Volume 1
By Leroy Douresseaux
Nov 6, 2008 - 12:42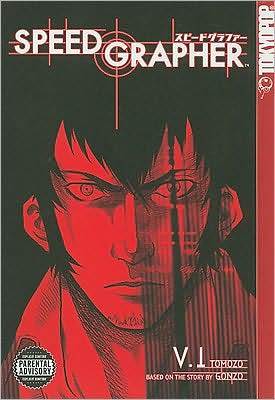 The cover image for Speed Grapher 1 is courtesy of barnesandnoble.com.
Action; Rated "M" for "Mature Ages 18+"
"Speed Grapher" was a 2005 anime series created by Gonzo ("Afro Samurai" and "Burst Angel"). Dengeki Comics Gao! (MediaWorks, publisher) published a manga adaptation of the game, and TOKYOPOP is producing an English edition of that manga to be published in three volumes.
In Speed Grapher, Vol. 1, former war photographer Tatsumi Saiga, now a photojournalist, is investigating political corruption and the murder of a prominent politician. His investigation leads him to the hidden lair of the Roppongi Club, a secret society for the elite, where members can have their greatest desires amplified.
Saiga is eventually involved in a violent confrontation at the Roppongi Club and is kissed by the club's "goddess," Kagura Tennouzu. This kiss awakens a supernatural ability within Saiga that allows him to make anything or anyone he photographs explode. Soon, Saiga and Kagura are on the run, and Saiga aims to grant Kagura her desire – freedom from the clutches of her family's power.
THE LOWDOWN: The script is a jumble of jarring cuts from one subplot to the next, from one scene to the next, and from one character to the next. However, the art, with its rubbery, manic quality, is stylish and has an alluring way with scenes of bloody mayhem and violent action. Together, script and art create an off-kilter suspense, chase thriller with many elements of a superhero comic book. Think "The Fugitive" meets "The Prisoner" meets the X-Men, with the X-Men as villains. Speed Grapher the manga is not great, but it's very interesting, in an odd sort of way.
POSSIBLE AUDIENCE: Readers who enjoy TOKYOPOP's dark and violent, sci-fi/action series will like Speed Grapher.
B
Last Updated: Jun 26, 2018 - 9:28