Comics / Comic Reviews / More Comics
Skyward #1 comics review
By Leroy Douresseaux
August 22, 2013 - 16:58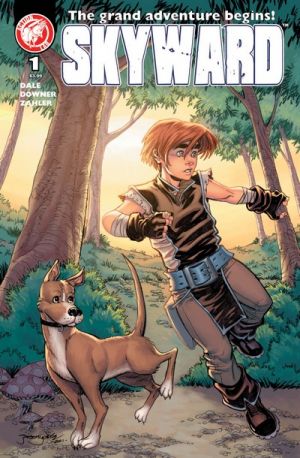 Skyward #1 cover image
Skyward is a fantasy comic book series created, written, and drawn by Jeremy Dale. Dale apparently first began self-publishing the series a few years ago. Action Lab Entertainment, now Skyward's publisher, re-released the first issue under their banner at the beginning of August.
Skyward #1 ("The Genesis of Exodus") introduces a boy named Quinn. He lives in the kind of medieval-like age which is the setting for many epic fantasy and high-fantasy stories. As Skyward begins, Quinn is fishing with his dog, Jack, and his father, Corin, a massive muscular man with a Conan the Cimmerian body type.
On the way home, Quinn and Corin are involved in an incident, which they don't realize portends doom. Father and son return to their pastoral home and hearth, where Taryn, Quinn's mother and Corin's wife, awaits them. But Corin's past is not far behind.
THE LOWDOWN: In a recent piece for the Comic Book Bin, columnist Philip Schweier offered an article entitled, "Comics for 45-Year-olds." In part, Schweier examines the term "all ages" and what it means when used to describe a target audience, in particularly readers of comic books. "Comics for 45-Year-olds" is one of those "must-read" articles, and it is also an "evergreen," meaning that it will be relevant to comic book readers, the marketplace, and the industry for some time to come.
One particular paragraph stood out for me, as it encapsulates the last four decades of comic book publishing in the United States. The following line from that paragraph is relevant to my review of Skyward #1: There was a time when comic books were truly all ages, read and enjoyed by 10-year-olds, 15-year-olds, 20-year-olds and older. [Read the article here: http://www.comicbookbin.com/Comics_for_45-Year-olds.html]
Skyward #1 is the kind of comic book that can be read and enjoyed by anyone from 10-years-old to 110-years-old. There are many things to like about this comic book, for instance, a noisy dog named Jack as a character that fully participates in the narrative. I also like that when it comes to Corin and Quinn, Dale offers a twist on the idea of the call to the quest.
Dale's art with Steve Downer's color gives the story the graphic or visual impression of watching an animated film. In fact, reading Skyward #1 reminded me of those happy feelings I had as a child watching Ralph Bakshi's animated feature film, The Hobbit (an adaptation of Tolkien's novel, of course).
This early in the series, Dale is still finding his way as a storyteller and is working out a few kinks. Still, it is clear that Skyward is heading in the right direction.
POSSIBLE AUDIENCE: Readers looking for a stand-out fantasy that everyone can read will want to try Skyward.
www.actionlab.com
www.jeremy-dale.com
Rating: 9 /10
Last Updated: September 6, 2021 - 08:15