Skip Beat: Volume 34 manga review
By Leroy Douresseaux
March 26, 2015 - 22:52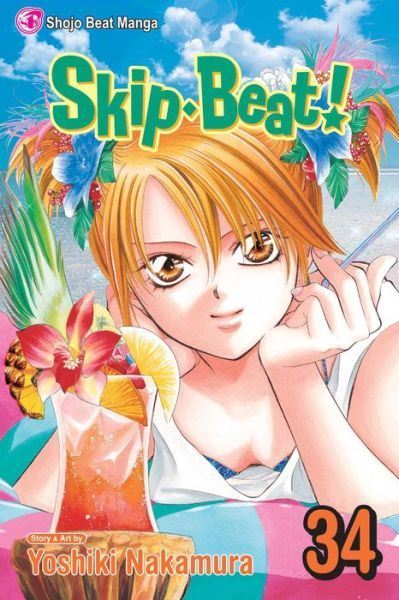 Skip Beat Volume 34 cover image is courtesy of barnesandnoble.com.
Follow me on
Twitter
.
Rated "T" for "Teen"
Kyoko Mogami
is a sixteen year-old girl who loves her childhood friend,
Shotaro "Sho" Fuwa
. She follows him to Tokyo and works hard to support him while he pursues his dream of being a top pop idol. Sho betrays Kyoko, however, so she decides to get revenge by becoming a bigger star than Sho, who is ranked seventh among the top 20 most popular male celebrities in Japan.
As
Skip Beat!

, Vol. 34
(Chapters 201 to 206) opens, Kyoko is worried about "
White Day
," the day boys and men give something to the girls who gave them something on Valentine's Day. However,
The President
of
L.M.E.
, the talent agency that represents her, has called Kyoko for a special meeting. Before Kyoko can declare her feelings for the actor,
Ren Tsuruga
, he gives her some time off.
Kyoko heads to the island of
Guam
, and since fate wants what it wants, so is Ren. Even as the two assume alternate personalities, their hearts threaten to slip their bonds.
THE LOWDOWN:
My VIZ Media press rep sent me a copy of the
Skip Beat!
manga for the first time. I always thought that
Skip Beat!
was some kind of sports or music manga; that's how little attention I paid to it. After some initial feelings of disappointment, I found the premise exciting. I hope Kyoko gets sweet revenge against the boy who betrayed her.
After reading
Skip Beat! Volume 34
, I can say that I wasn't particularly impressed with the basic story. I was, however, impressed by the graphical storytelling – the way the art, lettering, and graphics tell the story.
Yoshiki Nakamura
presents a visually striking story using beautiful renderings of characters and a diverse range of deformed figure and facial drawings (from super to tame). The visual presentation makes the characters pop off the page. I am interested in how Kyoko has evolved over 200+ chapters, and, even after one volume, I want to see how her story ends.
POSSIBLE AUDIENCE:
Fans of shojo romance will want to try the Shojo Beat title,
Skip Beat!
Rating: B /10
Last Updated: September 6, 2021 - 08:15