The Life and Times of Savior 28 #4
By Leroy Douresseaux
September 17, 2009 - 07:53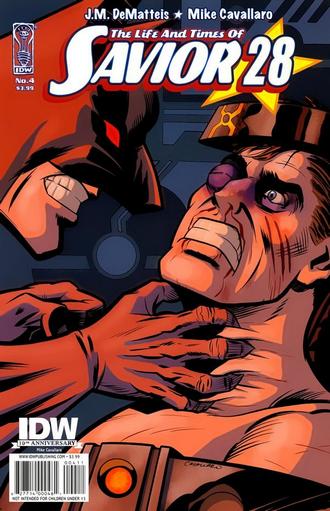 The Life and Times of Savior 28 #4 cover image
The Life and Times of Savior 28 is something of a memoir. It is a story told by a lesser man of a better man. The star is the titular superhero, Savior 28, America's champion, hero, and protector for six decades. The teller is Dennis McNulty, a depression era orphan who became Savior 28's sidekick, The Daring Disciple. The teller is the man who would eventually become Savior 28's killer. This is his story.
In The Life and Times of Savior 28 #4 ("Enemy Combatants"), James Smith a.k.a. Savior 28 finally confronts both his fate and the superhero community, just as he's had to confront his sense of purpose. First, members of the superhero group, the Superior Squad, kidnap and imprison Savior 28. In light of Savior 28's recent actions, some members of the Superior Squad are sure that the man who visits despots and dictators is not the real Savior 28. Then, Dennis McNulty makes an appearance, but is he rescuer or harbinger?
This fourth issue of The Life and Times of Savior 28 is my favorite thus far. Perhaps because "Enemy Combatants" has a strong emotional center – the pupil Dennis confronts his teacher Savior 28; this certainly makes for stronger conflict. There is more at stake here in this test of wills between former partners, and it's not just about the future of a friendship. That this particular chapter is built on character rather than a position is what will make the overall narrative more robust.
With his distinctive, retro style, artist Mike Cavallaro has done excellent work on this series. His clean compositions are just right for a story that plays over several eras. Rather than have the art mimic that of comic books from the Golden Age, Silver Age, Bronze Age, etc., Cavallaro uses a consistent graphic approach. That reflects what this story is – a recollection from a single point of view and not a wide-ranging history documenting many people's stories.
A-
Mike Cavallaro: http://www.66thousandmilesperhour.com/
Last Updated: August 31, 2023 - 08:12