Comics / Comic Reviews / More Comics
Samurai's Blood: Volume 1
By Leroy Douresseaux
May 10, 2012 - 14:33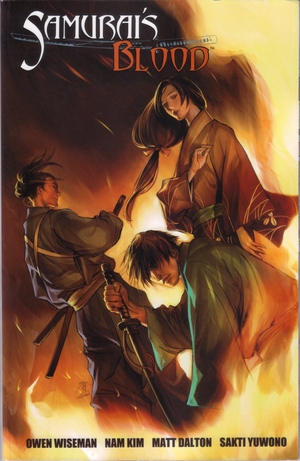 Samurai's Blood Volume 1 cover image
Samurai's Blood is a six-issue miniseries produced by Benaroya Publishing and published by Image Comics. Earlier this year, the series, which was created by Michael Benaroya and Owen Wiseman, was collected in the trade paperback, Samurai's Blood Volume 1. As a bonus, this trade paperback includes a short story set in the world of Samurai's Blood.
Samurai's Blood is set in feudal Japan and follows three teenagers on a quest for revenge. An embittered noble, Lord Gakushi, betrays his daimyo, Sanjo Dewa, and begins a quest to destroy the Sanjo Clan. He also kills Sanjo Goro, but three clan members escape. Two of them are Goro's son Junichi (or "Jun") and his sister, Mayuko (or "Yuko"). The third is a young man named Kajiro Katashi, who is the son of one of Goro's retainers. Kajiro plans to marry Yuko, and he is also training to become a samurai.
Leaving their mountain village of Eiwa, the three eventually reach the city of Yamagata, where they plot revenge against Gakushi and his second-in-command, the evil Araku. They take on new identities. Jun becomes Kaio Fukuyama and Kajiro becomes Haniya Toshimitsu. Their path to vengeance, however, fits all the stereotypes about paths to vengeance. It is fraught with peril; it is long and winding. It is filled with so many sidetracks and tributaries that these teenagers may lose themselves before they gain any of what they want.
THE LOWDOWN: The first issue of Samurai's Blood that read was issue #2. Back then, one of the things that immediately stood out to me was how dense and layered the storytelling was. Not only was there a lot of dialogue, but there were also many captions and some of those contained philosophical expositions about the way of the samurai.
The script for this entire series, written by Owen Wiseman, is convoluted and confused, but I don't mean that as a criticism. This is a well-written graphic novel in which strong characters are the spine that joins bloody fight scenes with intense and dramatic confrontations of the non-killing sort to create a unified whole.
I call this convoluted and confused because those words describe what becomes of the characters' lives and their journey. I think Wiseman gets that revenge is an end, and that everything between the beginning (the declaration that one is seeking revenge) and the end is either shadowy or certainly more complex than it might appear. Beginning the quest is easy, but it is far easier to lose oneself in the disorder and uncertainty. One must solve the mysteries and see through obstructions to get to the end (revenge). The surprise of Samurai's Tale is that there are so many surprises and changes that by the end, you will likely not see the characters the way you did in the first issue.
Wiseman's tale is told in beautiful art by Nam Kim (pencils) and Matthew Dalton (inks) that superbly captures the drama and the violence in an energetic graphic style. Their art resembles Joe Madureira's art during his tenure on Uncanny X-Men back in the mid-1990s. Kim and Dalton take Wiseman's potent storytelling and turn it into melodramatic splendor – the Joe Mad thing is a bonus for me.
POSSIBLE AUDIENCE: Readers looking for samurai drama will find a good one in Samurai's Blood Volume 1.
Rating: 8.5 /10
Last Updated: May 19, 2020 - 12:25