Samurai Harem: Asu no Yoichi Volume 1
By Leroy Douresseaux
June 17, 2009 - 20:46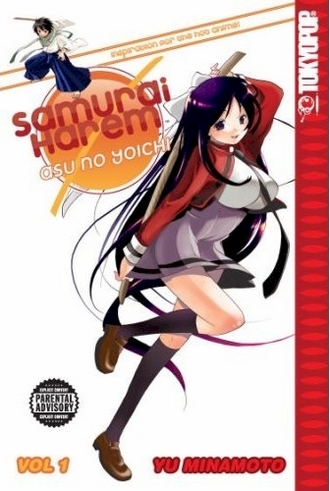 Samurai Harem Volume 1 cover image is courtesy of Anime Castle Books.
Action/Comedy; Rated "M" for "Teen-Age 18+"
At the behest of his father, Yoichi Karasuma leaves his small mountain village for the city. There, Yoichi will join the Ikaruga Dojo, which teaches the Ukiha Kamikaze fighting style, and continue his training so that he may one day become a great samurai. He runs into two complications. First, his samurai attire and attitude are out of place in the modern world. Secondly, the Ikaruga Dojo is now home to four beautiful sisters, and Ibuki Ikaruga, the eldest, is a fierce warrior who frequently delivers ferocious beatings to Yoichi.
In Samurai Harem: Asu no Yoichi, Vol. 1, Yoichi tries to adjust to life with Ibuki and her three sisters: the flat-chested Ayame; the young mangaka, Chihaya; and the baby of the bunch, Kagome. Practically every move Yoichi makes is mistaken for a pass at the girls, and two of them are already scheming against him. Meanwhile, Yoichi gets to attend school for the first time, but at Yokko Private High School, he finds a rival in a young thug named Ryo Washizu. Yoichi thinks that he and Ryo are just sparring partners, but Ryo is fighting the young samurai for the love of Ibuki.
THE LOWDOWN: While it offers plenty of cleavage and panty shots, Samurai Harem is more than just a fanservice manga. It's also an energetic romantic comedy, made all the nicer by the fact that each of the four sisters has a distinct personality. Actually, this early in the series, two of the sisters, Ayame and Chihaya, are far more interesting than the two characters that are supposed to be the stars: Yoichi and Ibuki. The two chapters that focus on Ayame and Chihaya's schemes are enjoyable reads. If creator Yu Minamoto can present stories as good as the ones featuring these two sisters, Samurai Harem will reach its potential.
POSSIBLE AUDIENCE: Readers looking for a mix of swordplay and T&A will enjoy Samurai Harem: Asu no Yoichi.
B
Last Updated: January 24, 2022 - 11:00