Samurai Harem: Asu No Yoichi Volume 2
By Leroy Douresseaux
November 1, 2009 - 11:32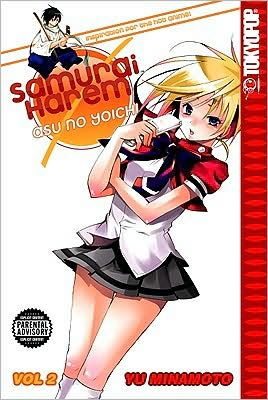 Samurai Harem Volume 2 cover image is courtesy of barnesandnoble.com.
Action/Comedy; Rated "M" for "Teen-Age 18+"
Yoichi Karasuma, a young samurai, left his small mountain village for the city. As his father instructed, Yoichi joined the Ikaruga Dojo, which teaches the Ukiha Kamikaze fighting style, to continue his training so that he may one day become a great samurai. However, Yoichi's samurai attire and attitude are out of place in the modern world. The Ikaruga Dojo is also home to four beautiful sisters, and Ibuki Ikaruga, the eldest, is a fierce warrior who frequently delivers ferocious beatings to Yoichi.
In Samurai Harem: Asu no Yoichi, Vol. 2, Yoichi is the target of an assassination plot. Tsubasa Tsubame, a petit teen girl, arrives in the city with another girl, the tall and sexy Angela Takatsukasa. Appearances can be deceiving. Tsubasa is a ninja heir, charged with upholding the Tsubameben Tenryuu fighting style, and Angela is Tsubasa's vassal and guardian and a ninja assassin. So why are they here to kill Yoichi?
THE LOWDOWN: As its uber-plot (or overall plot) gradually coalesces, Samurai Harem solidifies around its setting, which is something like a samurai domestic comedy, with the Ikaruga Dojo as the suburban homestead. This affords creator Yu Minamoto the opportunity to mine Samurai Harem for episodic comedy built around family disputes, romantic rivalries, and teenage conflicts. While this makes for some fairly entertaining stories, Samurai Harem mostly avoids the martial aspects of having samurai and ninja populating a manga series. So far, this series avoids the action, but does have plenty of comedy.
POSSIBLE AUDIENCE: Readers looking for samurai comedy and innuendo (panty shots and cleavage) will enjoy Samurai Harem: Asu no Yoichi.
B
Last Updated: June 23, 2021 - 00:45