Runemaster Studios: Comics with a Conscience
By Avi Weinryb
Sep 28, 2006 - 9:00
Most comic studios see super-heroics as an essential component to their business. Runemaster Studios also views heroism as an actual duty. The Arizona based studio is the publisher of favourites Lions, Tigers and Bears and The Gimoles. Armed with a dedicated fan-base of young readers, Runemaster sees itself as not just a creative studio, but a role model as well.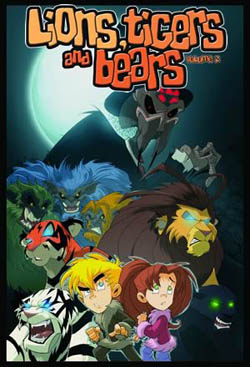 cover art from a LT & B collection
After its founding in the summer of 2004, Runemaster's small team of 'imagineers' have set about crafting creative properties for comics, television, film, toys and video games. Among their priorities is the dedication of time and resources to charitable causes. Recent fundraising efforts by the studio were for Tsunami and Hurricane Katrina victims. Past causes have included a literacy program and a charity auction for a non-profit Down-Syndrome organization.
In the realm of creative industries, comics are a leader in supporting charity work. Many studios, including the 'big two' (Marvel and DC) have donated money and creative efforts to a wide range of causes, including the families of 9/11 victims. Says Runemaster's Mike Bullock, "we've found the comic book industry and community as a whole is a very giving group of folks".
Since Runemaster is a small studio (nine people!) it is necessary for them to publicize their efforts in order to get a response from the public. "Fundraisers take the form of eBay auctions, or raffles, so publicizing the events is absolutely necessary", states Bullock. "We also hope that it motivates others to do the same."
With great power comes great responsibility
This sense of responsibility towards the public is something that Runemaster's leader does not take lightly. In producing sophisticated and action-packed comics, Bullock is always cognizant of his obligation to craft books that are suitable for his young audience. His flagship title, Lions, Tigers and Bears,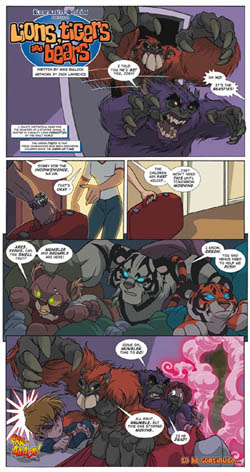 An excerpt from a special LT & B issue supporting literacy

revolves around the concept of animals protecting children from danger. When questioned about what today's children need protection from, Bullock is quick to answer "Everything".

"I can't seem to turn on the news without hearing about a child who's been kidnapped, assaulted, killed or harmed in one way or another. And along with the physical dangers of modern society, there's also the social, moral and spiritual dangers as well. From bands like Insane Clown Posse who tell kids it's ok to lie and steal, to video games that have rape and murder as the goal, to parents who seem to think raising their children isn't their responsibility."

This statement appears pessimistic, but Bullock is merely trying to make his point clear. "While there still are a lot of good people out there, it seems like the bad guys versus good guys ratio is swinging the wrong way".

Knowing that even the smallest flicker of light can remove darkness, Bullock seeks to lend a hand to those in need. By offering young readers innovative and age-appropriate stories, as well as providing an example of charitable responsibility, Runemaster Studios is aiding in the cultivation of youth armed with a social conscience.

Outside of his own studio, Bullock carries his mantle of compassion proudly as he tackles the writing duties for Moonstone Books' The Phantom. When asked about the upcoming work, Bullock is ecstatic. "I'm just excited. The Phantom is a great character and it's not only an honor to continue what Lee Falk started, but a lot of fun." An upcoming story will shed some light on a "humanitarian travesty going on right now in Africa ."

Nowhere to go but up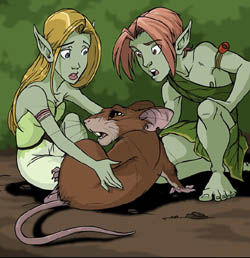 Art from The Gimoles
Looking towards the future, Mike Bullock and the rest of his creative team are on a path towards ever growing success. Late last year it was announced that some of their creative properties had been optioned for the production of feature films and video games. Runemaster's characters will soon be entering the world of action figures as well. Witnessing his characters transcend their medium is "very exciting", says Bullock.
As the studio's success grows, its vision remains imbued with the integrity and sincerity that makes it a fan favourite. It is the great comics that help distinguish Runemaster as a creative studio, but it is also the heightened sense of responsibility. Studio head Mike Bullock is resolute when he says that, "everyone has a responsibility to help out those around you who are less fortunate. We can only hope that people around the world reach out to not only those within arm's length, but anyone anywhere on the globe that needs a hand".
Feed Avi's ego by sending him your comments and criticisms.
Last Updated: Jun 26, 2018 - 9:28