Rin-ne: Volume 24 manga review
By Leroy Douresseaux
July 30, 2017 - 23:43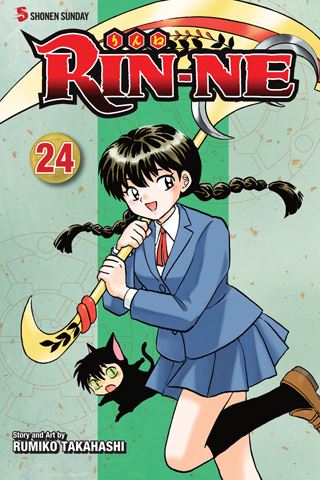 Rin-ne Volume 24 cover image
Rated "T+" for "Older Teen"

Sakura Mamiya
had a mysterious encounter with the afterlife when she was a child. This caused her to gain the ability to see ghosts. Now in high school, Sakura wishes the ghosts would leave her alone. Then, she meets
Rinne Rokudo
, who is sort of a shinigami (god of death), and her life is drawn deeper into the amazing and sometimes perilous boundary between the living and the dead.
As
Rin-ne

, Vol. 24
(Chapters 229 to 238) opens,
Annette Hitomi Anematsuri
a.k.a. the "Shopping Mall Lady" is now Rinne and Sakura's homeroom teacher. She is getting some strange messages from her fortune-telling
peeking ball
, and the cause may be a familiar demon.
Also, something ominous is keeping young people from enjoying a prime cherry blossom viewing spot. A magical bamboo sprout causes trouble, and a locker at a soccer facility hides a dirty secret. Plus, Rinne's father,
Sabato
, and his grandmother,
Tamako
, return in the tale of a peculiar shinigami scythe and a black fox spirit with a huge bounty on its head.
THE LOWDOWN:
The Rin-ne manga continues to delight with its mostly single-chapter, situation comedy stories. Yes, creator
Rumiko Takahashi
also continues to introduce new characters, the kind of eccentric players that have made this series a delightful supernatural comedy, but I have to say that I am not crazy about Sakura and Rinne's homeroom teacher and her old peeking ball.
Rin-ne Volume 24
is not one of the stronger volumes in this series, but it does have some rather delightful stand-alone tales, such as the ones about the haunted locker, cursed cherry blossom tree, and the occult elevator. It's these single-chapter tales that sparkle and also show Takahashi's vivid imagination. I hope the next volume has more like that.
I READS YOU RECOMMENDS:
Readers who love Rumiko Takahashi's manga will want the Shonen Sunday title,
Rin-ne
.
B+
7 out of 10
Rating: 7 /10
Last Updated: August 31, 2023 - 08:12