Rin-ne: Volume 21 manga review
By Leroy Douresseaux
July 12, 2017 - 05:07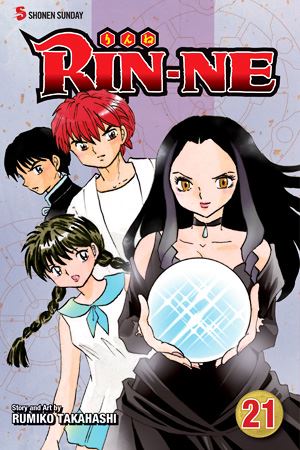 Rin-ne Volume 21 cover image
Rated "T+" for "Older Teen"
Sakura Mamiya
had a mysterious encounter with the afterlife when she was a child. This caused her to gain the ability to see ghosts. Now in high school, Sakura wishes the ghosts would leave her alone. Then, she meets
Rinne Rokudo
, who is sort of a
shinigami
(god of death), and her life is drawn deeper into the amazing and sometimes perilous boundary between the living and the dead.
Rin-ne

, Vol. 21
(Chapters 199 to 208) opens during summer vacation, and right away there are supernatural mysteries for Sakura and Rinne to solve. First, there's something in the little old tunnel by the sea, and it does not want vacationers passing through the tunnel. There is an evil spirit in a summer cottage, and it is time for a bug soul hunt. There are ghostly romances revolving around eggplants and noodles. Then, meet the "
Shopping Mall Lady
" and her unusual crystal ball.
THE LOWDOWN:
The Rin-ne manga continues its mostly single-chapter, situation comedy stories. Creator
Rumiko Takahashi
also continues to introduce new characters, the kind of eccentric players that have made this series a delightful supernatural comedy.
Rin-ne Volume 21
(which was originally published during the summer of 2016) zeroes in on summer vacation for its first half. That makes this volume sparkle with sun and fun and ghostly mystery. VIZ Media rates this manga for "older teen" readers, but I have always found it to skew younger than that. Rin-ne has a Saturday morning cartoon vibe that will please children as well as older audiences that want in on the fun. I would not call this a great manga, but at time, it really is fun to read
I READS YOU RECOMMENDS:
Readers who love Rumiko Takahashi's manga will want the Shonen Sunday title,
Rin-ne
.
A-
8.5 out of 10
Rating: 8.5 /10
Last Updated: August 31, 2023 - 08:12