Rin-ne: Volume 20 manga review
By Leroy Douresseaux
March 9, 2016 - 12:09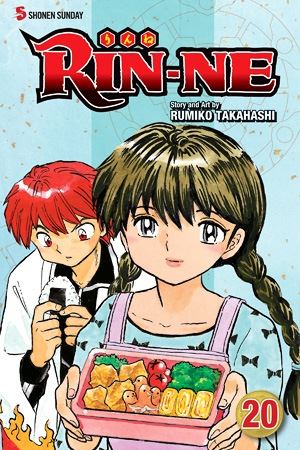 Rin-ne Volume 20 cover image
Rated "T+" for "Older Teen"
When she was just a kid,
Sakura Mamiya
had a mysterious encounter with the afterlife, which caused her to gain the ability to see ghosts. Now in high school, Sakura wishes the ghosts would leave her alone. Then, she meets
Rinne Rokudo
, who is sort of a
shinigami
(god of death), and her life is drawn deeper into the amazing and sometimes perilous boundary between the living and the dead.
As
Rin-ne

, Vol. 20
(Chapters 189 to 198) opens, it's time to scrub down the
Reincarnation Wheel
. This job is reserved for young shinigami and their
Black Cats
. This includes Rinne and his Black Cat,
Rokumon
. However, Rinne's wannabe-bestie,
Matsugo
, will make even this relatively simple task quite an ordeal for Rinne.
Next, Matsugo invites Rinne to a
Shinigami High School
social, but is upset when Rinne brings Sakura along as his girlfriend. Soon, Rinne's desperate bid for shrine lucky charms will have Sakura upset with him. Plus, Rinne experiences something straight out of Little Shoppe of Horrors.
THE LOWDOWN:
The
Rin-ne
manga often introduces new characters. Some stay longer than others. Some are there only to serve a purpose, such as being the impetus for a situation, and creator
Rumiko Takahashi
has made this series a constant flow of sparkling comic situations.
Rin-ne Volume 20
finds Matsugo, a recently introduced character, being the driving force behind the one-offs and story arcs featured in this volume. Personally, I find Matsugo a bit annoying, so I did not enjoy the stories featuring him as much as I could have. Still, some of the single chapter tales are a delight, as Takahashi continues to show how adept she is at manga shorts.
POSSIBLE AUDIENCE:
Readers who love Rumiko Takahashi's manga will want the Shonen Sunday title,
Rin-ne
.
B+
Rating: B+ /10
Last Updated: August 31, 2023 - 08:12