Rin-ne: Volume 19 manga review
By Leroy Douresseaux
November 14, 2015 - 20:11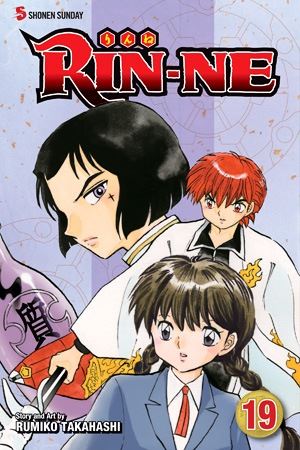 Rin-ne Volume 19 cover image
Rated "T+" for "Older Teen"
Once upon a time, young
Sakura Mamiya
had a mysterious encounter with the afterlife, which caused her to gain the ability to see ghosts. Now in high school, Sakura wishes the ghosts would leave her alone. Then, she meets
Rinne Rokudo
, who is sort of a
shinigami
(god of death), and her life is drawn deeper into the amazing and sometimes perilous boundary between the living and the dead.
As
Rin-ne

, Vol. 19
(Chapters 179 to 188) opens, Rinne is still trying to train
Sansei Kuroboshi
in the ways of being a black cat. He'd like to abandon that, but Sansei is the grandson of
Kuroboshi
, the Black Cat of Rinne's grandmother, Tamako. Obligated, Rinne hopes that the
Annual Black Cat Children's Meet
will help him help Sansei...
Rinne is roped into going to a
Shinigami Elementary School Alumni Association
gathering. Once there, he finds himself the target of someone who has a deeply-held grudge against him. Rinne should know the young man who is against him, but he does not...
THE LOWDOWN:
The
Rin-ne
manga continues to expand the world in which it is set. Creator
Rumiko Takahashi
offers more magical items, which specific members of the supporting cast use to create mischief and trouble for Rinne and Sakura.
Rin-ne Volume 19
presents a glimpse into Rinne's past, which is welcomed. Rinne sometimes seems like a vehicle by which the rest of the cast can showcase their personalities, desires, and quirks. Much about his past is unknown, and it seems as if there is much we should know. Vol. 19 opens the past and also introduces a peculiar new supporting character that might just be the quirky key ready to open Rinne to his readers.
POSSIBLE AUDIENCE:
Readers who love to travel to the worlds of Rumiko Takahashi's manga will want to take a supernatural trip to the Shonen Sunday title,
Rin-ne
.
Last Updated: August 31, 2023 - 08:12