Rin-ne: Volume 18 manga review
By Leroy Douresseaux
July 14, 2015 - 19:00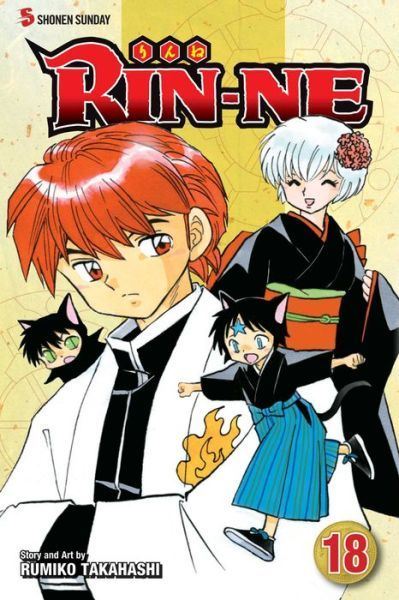 Rin-ne Volume 18 cover image is courtesy of barnesandnoble.com.
Rated "T+" for "Older Teen"
As a child,
Sakura Mamiya
had a mysterious encounter with the afterlife, which caused her to gain the ability to see ghosts. Now in high school, Sakura wishes the ghosts would leave her alone. Then, she meets
Rinne Rokudo
, who is sort of a shinigami (god of death), and her life is drawn deeper into the amazing and sometimes perilous boundary between the living and the dead.
Rin-ne

, Vol. 18
(Chapters 169 to 178) opens with a mushroom picking contest, but the giant, sentient "
Eat Eat Shrooms
," are threatening to cause problems while simultaneously making the hunters happy. Next,
Ageha
arrives to romance Rinne with a pot of
Oden
, but too many guests and a troublesome magistrate threaten to "spoil the broth."
What follows are some family affairs. Rinne's father,
Sabato Rokudo
, is accused of being a thief. Will Rinne help his father or choose the reward for his capture? Sakura and Rinne visit Rinne's grandmother,
Tamako
(Don't call me "Granny!"), to help her clean up a crowded storage closet. The return of an old acquaintance, however, earns Rinne a difficult new pupil.
THE LOWDOWN:
I surrender.
Rumiko Takahashi
, the creator of the
Rin-ne
manga, is an idea generator. I bow to her. By the time I finish a volume of
Rin-ne
, I can't even remember all the wonderful scenarios that she created just in a single volume.
I particularly like
Rin-ne Volume 18
because this one contains the best stories about Rin-ne's grandmother, Tamako, that I have read. She can be a really good player in this series. The story about the mannequin and the coat and the story about the snowman are extras in a volume chock full of "Rumic World" goodness.
POSSIBLE AUDIENCE:
Readers who love to travel to the worlds of Rumiko Takahashi's manga will want to take a supernatural trip to the Shonen Sunday title,
Rin-ne
.
Rating: A- /10
Last Updated: January 24, 2022 - 11:00