Rin-ne: Volume 17 manga review
By Leroy Douresseaux
March 10, 2015 - 18:38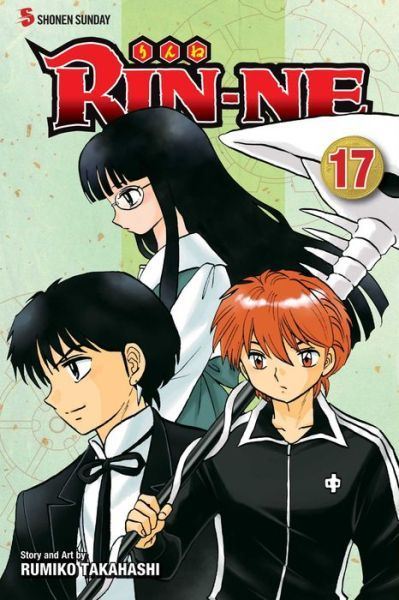 Rin-ne Volume 17 cover image is courtesy of barnesandnoble.com.
Follow me on
Twitter
.
Rated "T+" for "Older Teen"
Little
Sakura Mamiya
has a mysterious encounter with the afterlife, which causes her to gain the ability to see ghosts. Now in high school, Sakura wishes the ghosts would leave her alone. Then, she meets
Rinne Rokudo
, who is sort of a
shinigami
(god of death), and her life is drawn deeper into the amazing and sometimes perilous boundary between the living and the dead.
Rin-ne

, Vol. 17
(Chapters 159 to 168) opens with a love song and a cicada and also a scythe made of metal from a cursed source. Then, there is a tatami mat that likes to cop a feel, here and there. A cursed Neko cash box marks the return of Rinne's father,
Sabato Rokudo
. Also, while investigating a stray komainu shrine dog spirit, Rinne, Sakura, and
Tsubasa Jumonji
(their classmate who is an exorcist) clash with the disembodied spirit of a shrine maiden. What is her connection to Tsubasa?
THE LOWDOWN:
The
Rin-ne
manga is like other manga by the great mangaka,
Rumiko Takahashi
, full of wit and imagination. She packs her manga with so many ideas and elements that I often find myself discovering something new far into a series.
In
Rin-ne Volume 17
, I finally noticed that the supporting characters in this series are such conniving, lovable clowns. Even when they are not the instigator of a case of a haunting, a spirit, or a curse, they make the investigation so much more fun (for me) and troublesome (for our stars). I could use Takahashi's touch with supporting characters in my own comics.
POSSIBLE AUDIENCE:
Readers who love to travel to the worlds of Rumiko Takahashi's manga will want to take a supernatural trip to the Shonen Sunday title,
Rin-ne
.
Rating: A- /10
Last Updated: January 24, 2022 - 11:00