Rin-ne: Volume 16 manga review
By Leroy Douresseaux
November 8, 2014 - 19:44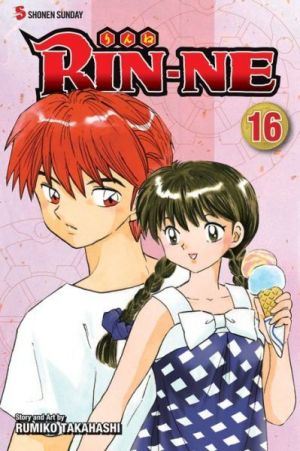 Rin-ne Volume 16 cover image is courtesy of barnesandnoble.com.
Follow me on
Twitter
.
Rated "T+" for "Older Teen"
She had a mysterious encounter with the afterlife when she was a child. That caused
Sakura Mamiya
to gain the ability to see ghosts. Now in high school, Sakura wishes the ghosts would leave her alone. Then, she meets
Rinne Rokudo
, who is kind of a
shinigami
(god of death), and her life is drawn deeper into the amazing and sometimes perilous boundary between the living and the dead.
In
Rin-ne

, Vol. 16
(Chapters 149 to 158), a ghostly girl with an umbrella offers to protect boys from the rain, but after a few minutes, she kicks them away. What's going on in "The Dream of Sharing an Umbrella?" In "Lend a Right Hand," Sakura spies Rin-ne getting a helping hand or two or three during final exams. He's cheating, or is it that simple? What's with the boy trying to trick girls into the ocean in "The Promised Necklace?"
THE LOWDOWN:
The
Rin-ne
manga is rock-steady in terms of concept and characters. However, each volume offers something new in the form of cases or situations in which Rinne has to act as troubleshooter or problem-solver. Most stories only last a chapter, but a few play out over two chapters. Rarely does creator
Rumiko Takahashi
take a story to a third chapter, so
Rin-ne
is mostly episodic, with few story arcs.
Rin-ne Volume 16
is a mixed bag. Takahashi is, as always, inventive and imaginative, but a few stories in Vol. 16 fall flat. I would say that this is about half-sparkle and half-muted glow. However, the sparkly stories always make a volume of
Rin-ne
worth reading.
POSSIBLE AUDIENCE:
Readers who love to travel into the worlds of Rumiko Takahashi's manga will want to try the Shonen Sunday title,
Rin-ne
.
Rating: B+ /10
Last Updated: January 24, 2022 - 11:00