Rin-ne: Volume 14 Advanced manga review
By Leroy Douresseaux
Feb 22, 2014 - 16:04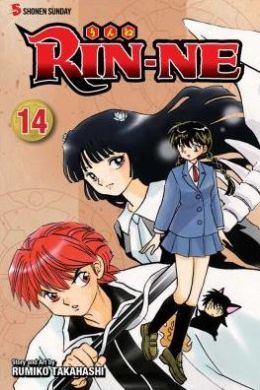 Rin-ne Volume 14 cover image is courtesy of barnesandnoble.com.
Rated "T+" for "Older Teen"
After a mysterious encounter with the afterlife when she was a child, Sakura Mamiya gained the ability to see ghosts. Now in high school, Sakura wishes the ghosts would leave her alone. Then, she meets Rinne Rokudo, a sort of shinigami (god of death), and her life is drawn deeper into the amazing and sometimes perilous boundary between the living and the dead.
Rin-ne, Vol. 14 (Chapter 129 to 138) opens with a negative aura that is giving Sakura, Rinne, and their schoolmates fits. Then, Rokumon, Rinne's Black Cat by contract, has to outsmart crafty Black Cat elder, Kuroida.
Then, the Setsubun festival brings forth a devil from Hell. A vengeful Nine-Tailed Fox sets his sights on Rinne to fulfill a curse from a century earlier. Finally, Renge Shima, a new student at Sakura and Rinne's school, proves to be quite the man-eater.
THE LOWDOWN: Every volume of the Rin-ne manga graphic novel series offers something new – sometimes in the form of new characters. Right and Left of Crescent Moon Hall, introduced in Vol. 13, did not have an outstanding debut.
Rin-ne Volume 14 presents the damashigami, Renge Shima, whose debut promises that she will be a worthy rival of both Rinne and Sakura. She is a genuine threat, but her over-reaching ambitions will often foil her plans. Now, there are more than enough supporting characters to provide Rin-ne with fresh sitcom-like scenarios. In the hands of the brilliant Rumiko Takahashi, Renge will spin magic trouble.
POSSIBLE AUDIENCE: Readers who love to travel to the worlds of Rumiko Takahashi's manga will want try the Shonen Sunday title, Rin-ne.
Rating: A- /10
Last Updated: Jun 26, 2018 - 9:28