Rin-ne: Volume 13 manga review
By Leroy Douresseaux
November 9, 2013 - 15:32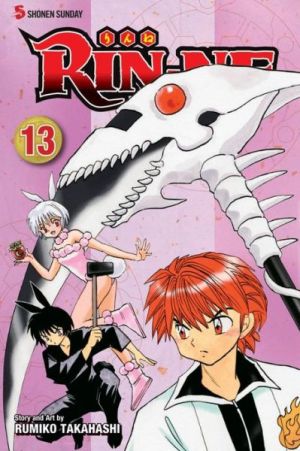 Rin-ne Volume 13 cover image is courtesy of barnesandnoble.com.
Rated "T+" for "Older Teen"
She had a mysterious encounter with the afterlife when she was a child. This gave Sakura Mamiya the ability to see ghosts. Now in high school, Sakura wishes the ghosts would leave her alone. Then, she meets Rinne Rokudo, a sort of shinigami (god of death), and her life is drawn deeper into the amazing and sometimes perilous boundary between the living and the dead.
Rin-ne, Vol. 13 (Chapter 119 to 128), opens with Sabato Rokudo, Rinne's father, asking his son's friends for money. Irritated, Rinne wants to know why.
Then, Rinne and Sakura meet the rabbit-eared twins: older sister Right and younger brother Left. They own and operate Crescent Moon Hall, a scythe-forging and repairing business. Rinne needs his scythe, which he uses to send souls to their rest, repaired, but his dealings with the siblings will prove troubling – several times.
THE LOWDOWN: The Rin-ne manga continues to fascinate me. However, I must admit that I don't find new characters, Right and Left of Crescent Moon Hall, fascinating. They are not bad characters; they just are not particularly interesting to me.
Luckily, Rinne Volume 13 features appearances from several fascinating members of its supporting cast, including Ageha, the girl shinigami in love with Rinne, and also bumbling exorcist and human, Tsubasa Jumonji. This volume also contains a rather interesting Christmas story, which alone is worth the cover price.
POSSIBLE AUDIENCE: Readers who love to travel to the worlds of Rumiko Takahashi's manga will want try the Shonen Sunday title, Rin-ne.
Rating: B+ /10
Last Updated: August 31, 2023 - 08:12