Rin-ne: Volume 12 manga review
By Leroy Douresseaux
Jul 7, 2013 - 16:29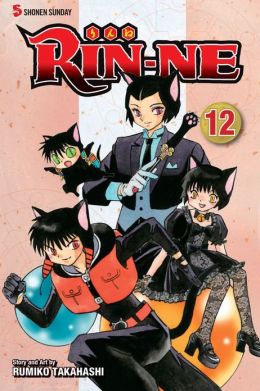 Rin-ne Volume 12 cover image is courtesy of barnesandnoble.com.
Rated "T+" for "Older Teen"
After a mysterious encounter with the afterlife when she was a child, Sakura Mamiya gained the ability to see ghosts. Now that she is a teenager in high school, however, Sakura wishes the ghosts would leave her alone. Then, she meets Rinne Rokudo, a sort of shinigami (god of death), and her life is drawn deeper into the amazing and sometimes perilous boundary between the living and the dead.
In Rin-ne, Vol. 12 (Chapter 109 to 118), Sakura and Rinne deal with a spirit that is haunting the diving board of a local swimming pool. Then, it's the five-chapter tale of "The Black Cat Ranking Exam." Each shinigami has a "Black Cat by Contract," that helps him with his work. Rokumon is Rinne's Black Cat, and he is ready to move up in ranking. Now, Rinne finds himself in a battle royale of conniving cats.
There is no rest for the weary as Sakura and Rinne deal with a cursed straw doll and a wandering power stone. Then, friends battle over mushrooms.
THE LOWDOWN: The Rin-ne manga still fascinates me. I start reading each volume that I receive and I'm initially bored. Then, the stories cast a spell over me. Why do I like this? Yet I have to recommend it. Rin-ne is like an Archie Comics title drenched in Japanese folklore. That doesn't make sense, does it? Well, that's the magic of Rumiko Takahashi and her amazing world of manga.
POSSIBLE AUDIENCE: Readers who love to travel to the worlds of Rumiko Takahashi's manga will want try the Shonen Sunday title, Rin-ne.
Rating: B+ /10
Last Updated: Jun 26, 2018 - 9:28