Rin-ne: Volume 11 manga review
By Leroy Douresseaux
March 7, 2013 - 16:36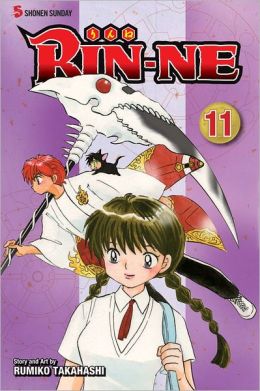 Rin-ne Volume 11 cover image is courtesy of barnesandnoble.com.
Rated "T+" for "Older Teen"
Sakura Mamiya had a mysterious encounter with the afterlife when she was a child. Afterwards, Sakura could see ghosts. Now a teenager, Sakura wishes the ghosts would leave her alone. Then, she meets Rinne Rokudo, a sort of shinigami (god of death), and her life is drawn deeper into the amazing and sometimes perilous boundary between the living and the dead.
In Rin-ne, Vol. 11 (Chapter 99 to 108), Sakura finally finds a way to suppress her ability to see ghosts. It is in the form of a magical candy she receives from Rinne's grandmother, Tamako (who does not want to be called a grandmother). This is, however, a bad time to not see ghosts. It's the annual A-1 Grand Prix, a contest for evil spirits, and they've targeted Sakura, who can't see them! The annoying elementary school shinigami, Shoma, is back. This time, he is accompanied by the Level 6 Black Cat Kurosu, and that means trouble for Rinne and company.
Then, "Half-Off at the Haunted House!!" is a bad deal for visitors at an amusement park. Love-sick couples are coming down with supernatural afflictions after visiting the half-off haunted house attraction. Tsubasa Jumonji, the young exorcist with strong feelings for Sakura, has asked her to help him solve this problem, but he really just wants a date. Meanwhile, the Shinigami Ageha also decides to use the haunted house as an excuse for some courtin' and romancing' of Rinne. She'll just pretend to be helping him find the cause of the problem, something called the damashigami.
THE LOWDOWN: From the first page of the Rin-ne manga that I read, I found myself enthralled by the odd, yet endearing supernatural manga. Rin-ne is like a situation comedy, a quirky one that only fans of creator Rumiko Takahashi could love. And if you let yourself become a Rumiko Takahashi fan, prepare to be bewitched by one of the more unique fantasy comics available to readers.
POSSIBLE AUDIENCE: Readers who love to travel to the worlds of Rumiko Takahashi's manga will want the Shonen Sunday title, Rin-ne.
Rating: A- /10
Last Updated: August 31, 2023 - 08:12