Rin-ne: Volume 9
By Leroy Douresseaux
June 27, 2012 - 10:08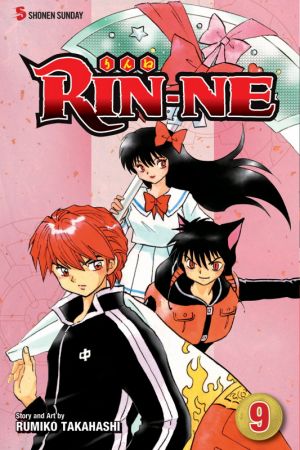 Rin-ne Volume 9 cover image
Rated "T+" for "Older Teen"
As a child, Sakura Mamiya had a mysterious encounter with the afterlife, and although she returned safely, Sakura could suddenly see ghosts. Now a teenager, Sakura wishes the ghosts would leave her alone. However, Rinne Rokudo, a sort of shinigami (god of death), comes into her life and draws her deeper into the amazing and sometimes perilous boundary between the living and the dead.
As Rin-ne, Vol. 9 opens, Manabu Ochiai, a third year high school student (equivalent of a senior), is studying for college entrance exams, but he cannot stay awake. Why is there a ghostly presence looming over him? Rinne and Sakura intend to find out. Also, the ghost of a teen figure skater haunts a skating rink, or is she haunting someone?
Rinne's shiftless father, Sabato, is back, and this time, he's a small business owner. Rinne and Sakura are left to wonder, however, what is really going on at the ramen shop, Kaedama, when they see Rinne's old man working so hard. Finally, when Ageha, the shinigami in love with Rinne, has a dispute with her black cat, Oboro, everyone feels the brunt of their feud.
THE LOWDOWN: After reading this ninth volume of the Rin-ne manga, I'm still not sure why I like this series. Perhaps, this charming supernatural title actually has some kind of supernatural aura about it, and creator Rumiko Takahashi has bewitched me as she has done to manga fans the world over. This series has a clean art style, and the stories are simple situation comedies with a deceptively creepy tone. And it works to create a winning series. Until the next volume possesses me…
POSSBLE AUDIENCE: Readers who love to travel to the worlds that Rumiko Takahashi creates will want to travel to the afterlife in Rin-ne.
Rating: A- /10
Last Updated: August 31, 2023 - 08:12