Rin-ne: Volume 8
By Leroy Douresseaux
February 27, 2012 - 12:07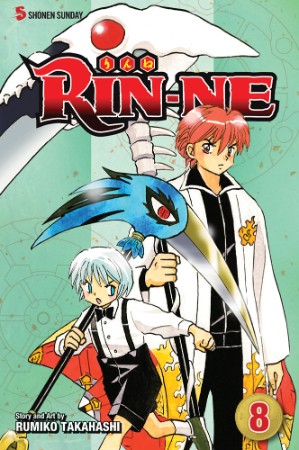 Rin-ne Volume 8 cover image
Rated "T+" for "Older Teen"
When she was a child, Sakura Mamiya somehow ended up lost in the afterlife. Although she returned safely, Sakura could suddenly see ghosts. Now the teenaged Sakura wishes those ghosts would leave her alone, but the sudden appearance of Rinne Rokudo, a sort of shinigami (god of death), draws her deeper into the amazing and sometimes perilous boundary between the living and the dead.
Rin-ne, Vol. 8 begins with the troubles of homestay training. What is "homestay training?" It is when a shinigami acts as a mentor to an elementary school student from the afterlife. The shinigami is to train the student, who lives with him (or her), in how to help spirits pass on to the afterlife. Rinne is mentoring the bratty Shoma, who is impatient in learning to help spirits pass on. He wants to go after the biggest evil spirits he can find. When the young devil, Masato, discovers this, he offers to help Shoma and makes life for Shoma, Rinne, and Sakura very difficult.
Ageha, the female shinigami in love with Rinne, buys a magical item that is supposed to help her capture Rinne's heart. Young exorcist Tsubasa Jumonji guest stars. Then, Rinne and Sakura investigate the case of a scarf that strangles.
THE LOWDOWN: This eighth volume of the Rin-ne manga is the first time that I've read the series since the fourth volume was published back in 2010. I must again apologize, dear reader. I'm still not sure why I like this series. It's strangely low key, and the characters seem oddly cute. The series seems to exist somewhere between kids comic and teen fantasy. Maybe this is just the magic of creator Rumiko Takahashi – to love her work without precisely knowing why.
POSSBLE AUDIENCE: Readers who love to travel to the worlds that Rumiko Takahashi creates will want to travel to the afterlife in Rin-ne.
A-
Last Updated: August 31, 2023 - 08:12