Rin-ne: Volume 2
By Leroy Douresseaux
Jan 17, 2010 - 19:08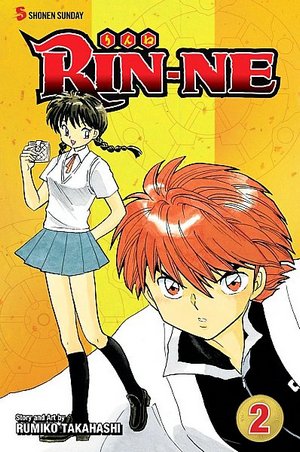 Rin-ne Volume 2 cover image is courtesy of powells.com.
Rated "T+" for "Older Teen"
As a child, Sakura Mamiya had an unusual experience in which she disappeared in the woods behind her grandmother's house. Sakura returned whole and healthy, but afterwards, had the ability to see ghosts. Now, a teenager, she wishes those ghosts would just leave her alone. The sudden appearance of Rinne Rokudo, the always-absent boy who is supposed to sit next to her in class, however, draws her deeper into the amazing, but sometimes perilous boundary between the living and the dead.
In Rin-ne, Vol. 2, Sakura and Rinne, who is a kind of shinigami (death god) that helps restless spirits find peace, are having a hard time helping a young, 16th century warrior find peace. Everything they've tried up to this point is a failure, but when the ghost kidnaps a fellow classmate, the duo will have to resort to even more unusual means. Next, Sakura and Rinne deal with the ghost of a girl who drowned in the school swimming pool, and now she's trying to drag other girls to watery graves. Finally, Sakura and Rinne battle a surprising rival over the wandering spirit of a gravely injured young man, and time is running out to return him to his body.
THE LOWDOWN: As someone who had read very little Rumiko Takahashi prior to Rin-ne, I now see why she has a large, loyal following. Rin-ne is just so strange and strangely alluring. I can't put it into words. Rin-ne's genre, subgenres, and genre-hyphenates change, often within the same storyline. It can be a supernatural comedy, comic fantasy, or fantasy drama. There is something unsettling about this entire narrative. It has as a theme that not only is death sad, but also that being dead means an afterlife full of headaches and tedious rules. I don't quite get its vibes, but Rin-ne is too charmingly uncanny for me to miss.
POSSBLE AUDIENCE: Rumiko Takahashi fans and lovers of weird fantasy will want to experience the world of Rin-ne.
A-
Last Updated: Jun 26, 2018 - 9:28