Takehiko Inoue's Real: Volume 12 manga review
By Leroy Douresseaux
October 14, 2013 - 17:16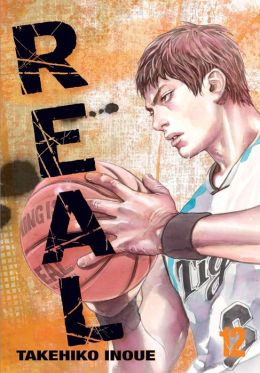 Takehiko Inoue's Real Volume 12 cover image is courtesy of barnesandnoble.com.
Rated "T+" for "Older Teen"
Tragedy left scars on three young men; a love of basketball unites them. Hisanobu Takahashi was once a promising basketball player, but now he is a paraplegic. High school dropout Tomomi Nomiya drifts with no purpose in life and is unable to keep a job. After losing his leg to cancer, Kiyoharu "Vince" Togawa started playing wheelchair basketball. This is Real.
Real, Vol. 12 (Chapters 67 to 72) opens with a Fujiko Hara-led workout. Now, it's spring and time for Togawa and Ryo Mizushima to attend A-Camp, a wheelchair basketball camp. Ryo feels out of place, but Togawa makes the other players just want him out. Togawa is determined "to get across the shortest distance at the greatest speed." Can visiting American coach, Jack Randall, help improve his attitude?
Meanwhile, Hisanobu is at the Rehabilitation Center for Persons with Disabilities, where he is a workout devil. As his ability to get in and out of a wheelchair improves, his father and mother make a move to improve relationships. Plus, "Scorpion" Shiratori, a pro wrestler hurt in a scooter accident, eyes a return to the ring in two months.
THE LOWDOWN: It has been two years since I last read a volume of the Real manga, and I realize that I missed this drama because it uses sports so well. Real Volume 12 is about basketball and personality. The aspect of tragedy, which usually hangs over this narrative, is absent from this volume. This time the emphasis is on building and repairing relationships. I want to call Vol. 12 the "feel good manga of the year," but I won't go there, dear reader.
The truth is that this is potent character drama. This is powerful as ever. This is Real. Takehiko Inoue has another slam dunk.
POSSIBLE AUDIENCE: Readers looking for exceptional graphic novels will want to keep it real with the VIZ Signature title, Real.
Rating: A /10
Last Updated: August 31, 2023 - 08:12