Takehiko Inoue's Real: Volume 10
By Leroy Douresseaux
November 13, 2011 - 07:21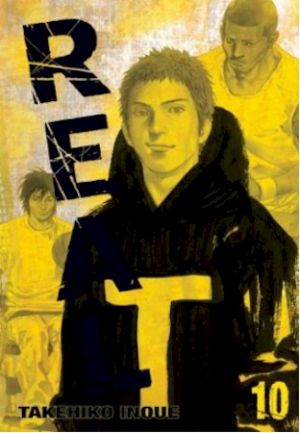 Real Volume 10 cover image is courtesy of barnesandnoble.com.
Rated "T+" for "Older Teen"
Hisanobu Takahashi was once a promising basketball player, but now he is a paraplegic. High school dropout Tomomi Nomiya drifts with no purpose in life and is unable to keep a job. After losing his leg to cancer, Kiyoharu "Vince" Togawa started playing wheelchair basketball, taking his nickname from NBA baller, Vince Carter. Tragedy will bring these three different young men together, uniting them by their love of basketball. This is Real.
As Real, Vol. 10 begins, Nomiya prepares for the next big step in his evolution as he transforms from a delinquent into a serious b-baller. He inserts himself into a real game situation and also makes a surprising appearance at his old high school. Next stop, a tryout with the Tokyo Lightnings. He always lives with the threat of cancer returning. Still, Vince continues to urge his teammates to strive for the very, very best. Meanwhile, at the rehabilitation center, the wheelchair bound residents take on the "demon" incline.
THE LOWDOWN: This is not a basketball volume of Real, at least not in the way other volumes are. The struggle to deal with tragedy, being wheel-chair bound, and adrift takes on a comic tone. This time around, Real creator Takehiko Inoue goes to the heart of the characters, but finds humor and irony amidst the grit, determination, and resignation. As powerful as ever, Takehiko Inoue's Real is still a slam dunk.
POSSIBLE AUDIENCE: Readers looking for exceptional graphic novels will want to keep it Real.
A-
Last Updated: August 31, 2023 - 08:12