Takehiko Inoue's Real: Volume 9
By Leroy Douresseaux
Nov 14, 2010 - 13:12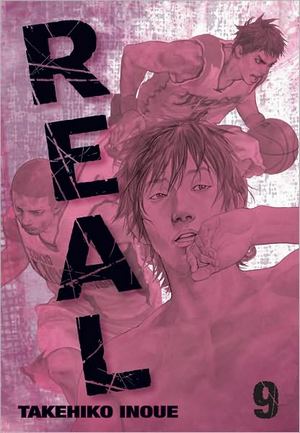 Real Volume 9 cover image is courtesy of barnesandnoble.com.
Rated "T+" for "Older Teen"
Now, he is a paraplegic, but Hisanobu Takahashi was once a promising basketball player. High school dropout, Tomomi Nomiya, suffers guilt because he caused an accident which paralyzed a young woman, so he drifts with no purpose in life and is unable to keep a job. After losing his leg to cancer, Kiyoharu "Vince" Togawa started playing wheelchair basketball, taking his nickname from NBA baller, Vince Carter. Tragedy will bring these three different young men together, uniting them by their love of basketball. This is Real.
As Real, Vol. 9 begins, Hisanobu bonds, sort of, with the latest patient at Rehabilitation Center for Persons with Disabilities. He is Scorpion Shiratori, a pro-wrestler paralyzed in a scooter accident. Unlike Hisanobu, Shiratori has a chance of walking again, and he sets a goal for himself – walking in three months. Meanwhile, Nomiya decides that he is going to play professional basketball; the high school dropout is going to leap past college hoops and play pro ball.
THE LOWDOWN: As I write every volume, Real is one of the very best comic books available on the American market, and Vol. 9 has not changed my mind. Thoughtful and probing, Real presents life's challenges as something to be welcomed – no matter how difficult they are. Creator Takehiko Inoue composes narrative sequences centered on single panels of powerful dramatic moments. Those moments could depict a declaration by a character or an establishing image of setting. These drive the readers to keep reading.
POSSIBLE AUDIENCE: Fans looking for basketball comics, readers looking for absorbed drama, and people just looking for great comics will want to keep it Real.
A
Last Updated: Jun 26, 2018 - 9:28