Takehiko Inoue's Real: Volume 8
By Leroy Douresseaux
April 30, 2010 - 13:17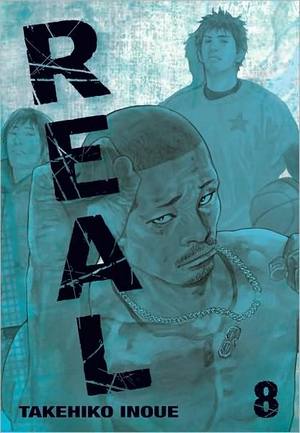 Real Volume 8 cover image is courtesy of barnesandnoble.com.
Rated "T+" for "Older Teen"
After he lost his leg to cancer, Kiyoharu "Vince" Togawa started playing wheelchair basketball, taking his nickname from NBA baller, Vince Carter. Now a paraplegic, Hisanobu Takahashi was once a natural athlete, smart student, and all-around popular guy. High school dropout, Tomomi Nomiya, suffers guilt because he caused an accident which paralyzed a young woman. Tragedy will bring these three different young men together, uniting them by their love of basketball. This is Real.
As Real, Vol. 8 begins, Vince and the rest of the Tokyo Tigers deal with losing a tough first round game to the Chofu Dreams, the eventual champions of the Tokyo Wheelchair Basketball Tournament; part of this aftermath includes Vince's kind-of-betrayal. Nomiya is having trouble finding another job, but is it because he hasn't decided what he really wants to do in life? However, much of this volume focuses on Hisanobu, as he struggles with his rehabilitation.
THE LOWDOWN: One of the very best comic books available on the American market, Real is the kind of drama that people who don't read comic books would be shocked to discover exists. Complicated, thoughtful, psychological, probing, uncompromising, and daring, Real attacks real life with gusto and imagination. It's a page turner the way a potboiler, best-selling novel is. The reader will buy into these characters and their lives, and like me, after they finish reading Vol. 8, they'll be disappointed that they have to wait a few months before getting to read the ninth volume.
POSSIBLE AUDIENCE: As good as the best comic books, Real is for those looking for the good stuff.
A
Last Updated: August 31, 2023 - 08:12