Takehiko Inoue's Real: Volume 6
By Leroy Douresseaux
October 13, 2009 - 14:33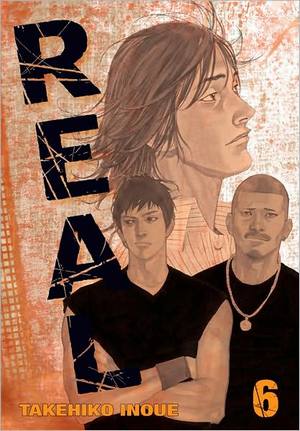 Real Volume 6 cover image is courtesy of barnesandnoble.com.
Rated "T+" for "Older Teen"
Cancer took his leg; now, Kiyoharu "Vince" Togawa plays wheelchair basketball. Hisanobu Takahashi is a natural athlete, smart student, and all-around popular guy, but now, he is a paraplegic. Tomomi Nomiya is a high school dropout dealing with the guilt of paralyzing a young woman in a traffic accident. Tragedy will bring these three different young men together, all of them united by their love of basketball.
In Real, Vol. 6, Vince's wheelchair basketball team, the Tigers, elect a team captain, as the players prepare for the Tokyo Regional Tournament. Tomomi Nomiya is now an unofficial member of the team, cheering them on with his rowdy ways. Nomiya has also taken a job as a delivery man – a job he hopes will continue him down the path of finding a goal in life.
Takahashi Hisanobu has given up on rehabilitation; meanwhile, his mother suddenly falls quite ill from exhaustion and liver trouble. The awkward reunion with his father continues as the stricken young man moves into his father's remote rural home. Takahashi's father was a salaryman who left his wife and son eight years earlier. He was also the man who introduced Takahashi to basketball. Now, both father and son must come to grips with how much damage was done to Takahashi as a young boy growing up in a broken home.
THE LOWDOWN: Declaring the character development rich and the detailed line art beautiful does not do Takehiko Inoue's graphic storytelling justice. The manner in which Inoue depicts the relationship between an estranged and only recently reunited father and son is not only poignant; it is also an intoxicating read that grips the heart and the imagination and won't let go even after the last page. The scenes with Takahashi and his father are like something out of a documentary or reality television series, but dressed in the art of high drama.
POSSIBLE AUDIENCE: Readers looking for a compelling read and a great comic book want to get Real.
A
Last Updated: August 31, 2023 - 08:12