Psyren: Volume 5
By Leroy Douresseaux
June 25, 2012 - 16:40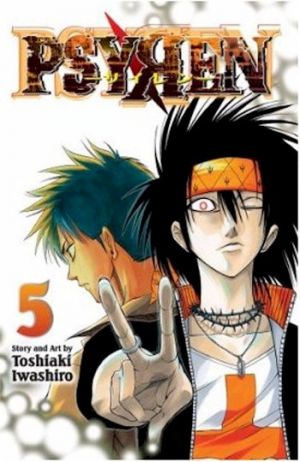 Psyren Volume 5 cover image is courtesy of Anime Castle Books.
Rated "T" for "Teen"
High school student, Ageha Yoshina, was looking for his friend, Sakurako Amamiya, who had disappeared. During the search, Ageha found a mysterious phone card emblazoned with the "Psyren" logo. The card transports him to Psyren, a warped alternate dimension that might actually be a near-future, post-apocalyptic Japan. Now a Psyren drifter, Ageha can be called back to this future wasteland at a moment's notice. Once in Psyren, Ageha and the other Psyren drifters have to fight their way back to their world or die trying.
As Psyren, Vol. 5 (entitled Visions) opens, Ageha, Sakurako, Hiryu Asaga, Oboro Mochizuki, and Kabuto Kirisaki are back in Psyren. They are looking for clue's regarding the destruction of their world (the past) in the cabin of Kabuto's late uncle. Instead of answers, they get more questions.
Suddenly, they have their first face to face confrontation with a member of W.I.S.E., the mysterious group that apparently plays a part in the destruction of the world. Enter, Star Commander Dolkey. He seems unstoppable, or can Ageha's power, the all-consuming and destroying pitch black sphere of blast energy known as Melzez Door, stop this all-powerful W.I.S.E. member?
THE LOWDOWN: When it comes to shonen battle manga, I'm just like a squealing Twilight fan. I can't get enough. Mystery, supernatural powers, inventively designed villains, confused heroes, and battles: the Psyren manga has enough to keep me reading. The series' dark and conspiratorial tone and the sense of impeding doom that hangs over it is the icing/cherry on top. I won't call this a great shonen manga, but it is great at giving you reasons to keep reading.
POSSIBLE AUDIENCE: Readers who want to dial into danger will want to answer the race-for-your-life Psyren call.
Rating: A- /10
Last Updated: January 24, 2022 - 11:00