Pokemon The Movie: Volcanion and the Mechanical Marvel manga review
By Leroy Douresseaux
Mar 28, 2017 - 22:21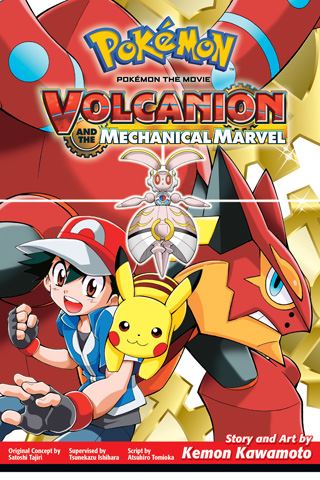 Pokemon The Movie: Volcanion and the Mechanical Marvel manga cover image
Rated "A" for "All Ages"
Pokémon the Movie: Volcanion and the Mechanical Marvel
is a 2016 Japanese anime film. It is the third and final film in the
Pokémon: XY
film series and the 19th
Pokémon
movie overall. The film, which is known as
Pokémon the Movie XY&Z: Volcanion and the Exquisite Magearna
in Japan, received a limited theatrical release in the United States in December 2016. It was released to home media in the U.S. on March 21, 2017.
This film also has a single-volume manga adaption from mangaka
Kemon Kawamoto
. As usual, this Pokémon story stars
Ash Ketchum
, the young boy on a quest to become a Pokémon master, and his partner,
Pikachu
, a
Pokémon
(the highly-sought after creatures of this series).
Pokémon the Movie: Volcanion and the Mechanical Marvel
opens with Ash and Pikachu defeating their most recent opponents. Then, the duo travels to the "Great Mechanical City,"
Azoth Kingdom
. Outside the city limits, they are surprised when the Mythical Pokémon,
Volcanion
, crashes down from the sky. The crash creates a cloud of dust, and a mysterious force binds Ash and Volcanion together.
Volcanion despises humans, but cannot escape Ash no matter how hard he tries to get away, and is forced to drag Ash along as he continues his rescue mission Volcanion wants to save his friend, the artificial Pokémon,
Magearna
. She is the target of
Alva
, the Minister of Azoth Kingdom, who wants control of something powerful inside Magearna. Can Ash find a way to work with Volcanion, who despises all humans?
THE LOWDOWN:
For adults,
Pokémon the Movie: Volcanion and the Mechanical Marvel
will be a quick read. This kodomo manga (comics for children) has it moments, and I must admit that I am surprised that the story is long as it is. I guess that makes it a true children's graphic novel.
Kemon Kawamoto really creates a sense of impending sense of doom in this story. The reader will believe that the heroes are actually in peril. When Ash and Pikachu leave their new friends at the end of this story to head to their next adventure, the parting is genuinely bittersweet. I don't see myself as a regular reader of Pokémon manga, but I won't avoid them.
I READS YOU RECOMMENDS:
Fans of Pokémon manga will want to give
Pokémon the Movie: Volcanion and the Mechanical Marvel
a try.
Support this writer on Patreon
Last Updated: Jun 26, 2018 - 9:28