Comics / Manga / Yaoi Manga
Tatsumi Kaiya's Physical Attraction (Yaoi)
By Leroy Douresseaux
Mar 23, 2010 - 14:30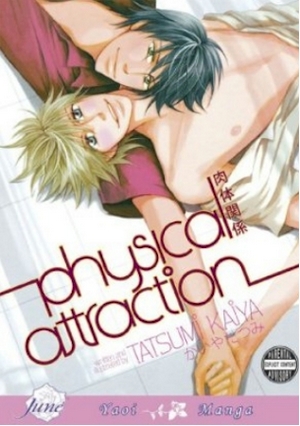 Physical Attraction cover image is courtesy of Anime Castle Books.
Comedy/Romance; Rated "18+ Mature"
Physical Attraction is a collection of yaoi manga short stories from creator Tatsumi Kaiya (Hot Steamy Glasses, Love Training). As the title suggests, physical attraction is what drives these boys into each others' arms.
"Physical Attraction," the title story, focuses on Noboru Kurata, a young man caught in what he thinks is not love, but is really just a booty call situation. When he confronts his lover, the stoic Nurasawa, Kurata hopes that he will show a more romantic side. Will he or will Nurasawa simply hit Kurata up for another booty call?
Like the title story, all the stories in Physical Attraction emphasize love born out of physical attraction or love-at-first-sight rather than loving relationships that result from romance and courtship. Yaoi readers will find that this volume offers several servings of sex because Physical Attraction isn't some boys' love tease fest. Boots are knocked, here.
The worst story in this volume really isn't all that bad. "Coded Passion" is about Ariska, a politician turned muck-racking magazine reporter and his investigation into his politician father's suicide. Ariska uses coercion on a former lover, Naoyoki Tsutsumi, a young parliamentarian who may know the truth. Later, Ariska uses his body to get what he wants. It is obvious to anyone who reads "Coded Passion" that it should at least be a novella, if not a graphic novel. This story ends with about four unresolved subplots.
Physical Attraction seems to share the affliction of many yaoi short story collections – too many short stories that should be longer, larger works. Creator Tatsumi Kaiya, however, is quite good at telling boys' love stories defined by hot passion, sweaty lovemaking, and hard sex. Physical Attraction reminds us that there is nothing wrong with a little bump and grind. You can yearn for someone's body and also love the whole person.
B+
For more of my writing, visit www.negromancer.com
Last Updated: Jun 26, 2018 - 9:28