Aya Kanno's Otomen: Volume 1
By Leroy Douresseaux
January 20, 2009 - 19:13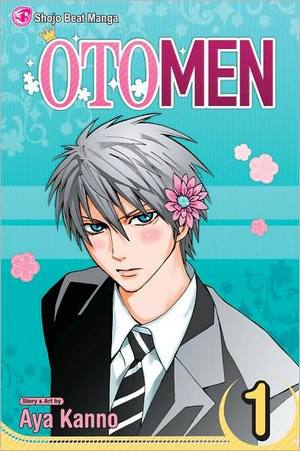 Otomen 1 cover is courtesy of barnesandnoble.com.
Rated "T" for "Teen"
In Otomen, Vol. 1, we meet Asuka Masamune, a guy who loves girly things. He likes sewing (even carries a sewing kit), knitting, making cute stuffed animals, cooking (makes beautiful bento meals), and he absolutely loves reading shojo manga. Still, Asuka lives in a world which insists that males act manly, so he hides his beloved hobbies. Instead, he plunges himself into the role of a masculine jock who is highly successful in martial arts.
Enter the beautiful Ryo Miyakozuka, a girl who can't sew, bake a cake, or even make a decent bento. Asuka finds himself drawn to her, but Ryo also values a manly man… or so she says. Complicating matters, Asuka seems to have a rival for Ryo's affections in Juta Tachibana, a ladies man who entertains many young women at their high school. However, Tachibana isn't really interested in Ryo; he's keeping his eye on Asuka. Why? And can Asuka show his true self to Ryo?
THE LOWDOWN: Of the three manga series by creator Aya Kanno that I've sampled (including Soul Rescue and Blank Slate), Otomen is by far the most enjoyable to read and the most entertaining. This odd love triangle that is Asuka, Ryo, and Juta is fun and feels like it's out of a classic Hollywood screwball comedy like The Philadelphia Story. Kanno seems to have put a lot of thought into Otomen because the things that make this trio different are what connect the trio, forming an entertaining construct. Kanno presents stories that are general comic scenarios – fish out of water, the misunderstanding, meet the parents, jealous suitors, etc. Kanno's pretty art also suits Otomen's mixed tone. Her style has the cutesy visual language of teen shojo and the sharp line work and brawny figure drawing of shonen manga.
POSSIBLE AUDIENCE: The general teen audience for VIZ Media's "Shojo Beat" line of manga will like Otomen.
B+
Last Updated: May 19, 2020 - 12:25