Oresama Teacher: Volume 21 manga review
By Leroy Douresseaux
December 3, 2016 - 20:34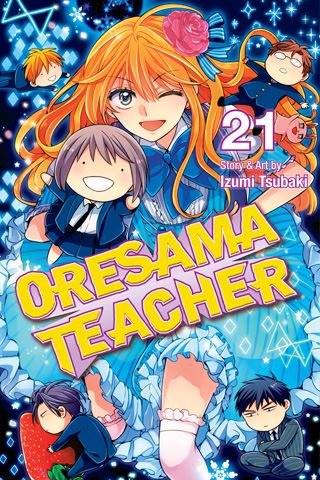 Oresama Teacher Volume 21 cover image
Rated "T" for "Teen"
Yes, once upon a time,
Mafuyu Kurosaki
was the take-charge, hard-hitting leader ("bancho") of a high school gang in Saitama. However, hoping to reform her daughter of her delinquent ways, Mafuyu's mother sent her daughter to
Midorigaoka Academy
, an isolated school far off in the country. There, Mafuyu reunited with
Takaomi Saeki
, the childhood friend who set her on the path of delinquency. Now, Saeki is Mafuyu's homeroom teacher.
As
Oresama Teacher

, Vol. 21
(Chapters 117 to 122) opens, Kurosaki chaperons a date between
Sakurada
and a boy who mistakenly thinks that Sakurada is a boy?! Now, Kurosaki must find some boy clothes because she has to pretend that she is Sakurada's boyfriend! Soon, a date becomes a love triangle and then, a challenge of teen male prowess! Then, someone else has assumed Kurosaki's secret identity,
Super Bun
, and they are raising havoc at Midorigaoka. However, Kurosaki discovers that confronting her doppelganger is quite difficult.
THE LOWDOWN:
I have previously admitted that I have mixed feelings about the
Oresama Teacher
manga. The series is inconsistent, but at times can be a fun read. Sometimes, I wonder if series creator,
Izumi Tsubaki
, is still feeling her way around her creation, even after 120+ chapters.
Oresama Teacher Volume 21
exemplifies that inconsistency. The cross-dressing / date / fight-over-me story line is kinda okay. The impostor Super Bun, however, is quite a read. I have to admit that I'm ready for Vol. 22 to read more of this story arc as it has the making of being an exceptional tale.
I READS YOU RECOMMENDS:
Fans of offbeat high school shojo manga will want to try the Shojo Beat title,
Oresama Teacher
.
B
Rating: B /10
Last Updated: August 31, 2023 - 08:12