Only One Wish
By Leroy Douresseaux
December 28, 2009 - 13:49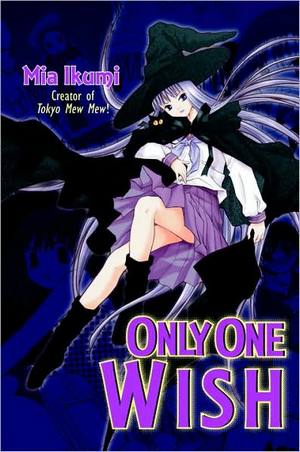 Only One Wish cover image is courtesy of barnesandnoble.com.
Rating "T Ages 13+"
If you text the angel at the address found in a mirror on a non-existent stair landing in school at midnight, she'll call you and grant you any wish…
The above snippet of text comes from the manga Only One Wish. It is a version of a scenario that has appeared in other manga (such as Miyuki Eto's dark and edgy Hell Girl). Here, the supernatural appears in the form of an "angel" (who looks more like a Halloween witch), who will grant one wish and one wish only.
A stand alone volume, Only One Wish offers four tales of incautious children asking this unnamed angel to grant them wishes in the matters of love, revenge, and resurrection. Among the tales: two teen girls want to help a third girl get the boy of her dreams, but their well-meaning wish may tear the trio apart. A recently deceased girl hopes to see the boy of her dreams one last time, but can the angel's gift open her eyes to true love? Is the mysterious angel really trying to help any of them?
[This volume comes with a bonus Tokyo Mew Mew short story.]
THE LOWDOWN: If Only One Wish has a theme, it is that when you turn your wish over to someone else, it is no longer yours. It certainly has a warning – be careful of the wishes you choose because sometimes the things you want can only hurt you. This is what makes Only One Wish surprisingly, even shockingly dark for a manga that will basically appeal to readers as young as middle school age.
Created by manga-ka Mia Ikumi (creator of the Tokyo Mew Mew franchise), this is an engaging shojo manga (comics for teen girls), that puts a dark spin on teen desire. Part soap opera and light horror, the stories seem like tales that snuck in from The Twilight Zone. They actually make their points quite well, and Ikumi presents the characters and plots in such a clean, efficient manner that readers can get a good idea about where the characters are going wrong. Readers may see the wish-granting angel as a dark angel, but her lessons are righteous. The deepest desires of our heart shouldn't come easily – a good less for young readers.
POSSIBLE AUDIENCE: Shojo readers who enjoy dark fantasy thrillers will want Only One Wish.
B+
Last Updated: August 31, 2023 - 08:12