Hell Girl: Volume 1
By Leroy Douresseaux
Jan 23, 2008 - 12:59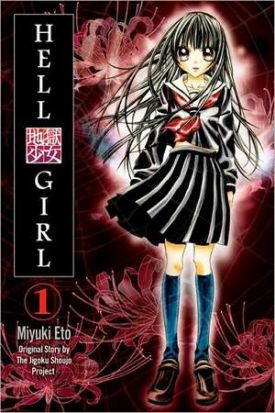 Thanks to barnesandnoble.com for the image.
When you really thirst for revenge, Hell Girl, Vol. 1 suggests that you visit Hell Correspondence, a website that only appears at midnight. Write in the name of your enemy, and Hell Girl will kill your enemy and drag 'em to hell! But there's a price (There's always a price!). When you die, your soul also goes to hell.
Vol. 1 offers five tales of young women wronged so deeply that they are willing to mortgage their future in a hellish manner for some payback today. From a young business woman ruined by her bitter ex-boss and mentor to a young actress crippled by a close friend harboring a secret jealous rage, the scorned seek death for those who done them wrong.
THE LOWDOWN: With its girlish shojo art – think textured toning and showers of flowery shapes and patterns – one might mistake Hell Girl for The Gentlemen's Alliance †. Hell Girl, however, is an edgy concept steeped in penny dreadful gore, Victorian mood, and dark fantasy. Shojo meets horror, and manga from the heart gets its heart ripped out.
There's nothing shy about Hell Girl. These revenge stories aren't about a girl angry because a fellow student is wearing the same skirt. The revenge seekers were done wrong – big time. Their victimizers have done cruel, mean-spirited things meant to ruin and, if necessary, destroy lives and reputations. These are not thoughtless acts spitefulness; these are malicious acts planned and acted out with gusto.
What's the point of revenge? Revenge is the point. In some of these five tales, the victims have to answer back, if only for their own survival. "The Inaudible Scream" is about a young woman who takes her beloved dog to a lying vet whose neglect costs the dog his life. Many readers will sympathize, identifying with the desperation of Junko to save her dog and also with her expected trust in the handsome young vet, Honjo. When Lucky dies, it's not hard to believe that many will understand the need and want to get one's revenge on.
POSSIBLE AUDIENCE: If you are intrigued by the question, "Is eternal damnation worth getting sweet, sweet revenge?," this collection of hypnotic tales is calling your dark heart.
A-
Last Updated: Jun 26, 2018 - 9:28