Nora: Volume 8
By Leroy Douresseaux
November 27, 2009 - 10:41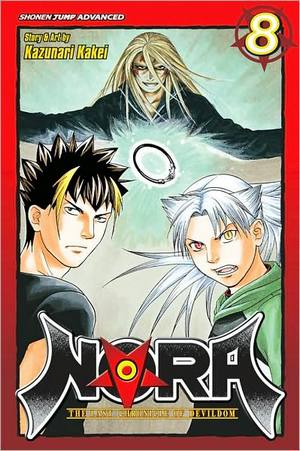 Nora Volume 8 cover image is courtesy of barnesandnoble.com.
Rated "T+" for "Older Teen"
Nora was an unruly denizen of the Demon World. He was the vicious dog of disaster – the legendary hell hound known as Cerberus. For his continual defiance of his superiors, Her Infernal Majesty, the Dark Liege forced Nora into a bond of servitude to high school star student, Kazuma Makkari. Kazuma can stop Nora from using his powers by simply yelling, "I forbid it!" Kazuma will learn the ways of the underworld, and Nora will learn more from the "real world" than he ever thought possible.
As Nora: The Last Chronicle of Devildom, Vol. 8 (entitled The Shout of the Soul) opens, Nora, Kazuma, and company are in the midst of their battle with Fall, the leader of the Demon World's infamous Resistance. As his powers grow, Fall decides to take the battle to the Human World, where he will initiate his plan to destroy both the Human World and the Demon World. Nora and Kazuma will do anything to stop him, but does that include unleashing Cerberus' full powers and true form?
THE LOWDOWN: Although this volume of Nora brings to an end a storyline that goes back to the beginning of this series, new readers will not be lost. This volume is one extended fight scene with the kind of big battle and awesome spectacle that shonen manga (comics for teen boys) fantasy series offer. There are explosions, action violence, giant sound effects lettering, and displays of power that recall Jack Kirby's Fourth World comic books. Regular readers can enjoy the back story, but all readers will enjoy the fireworks and fury.
POSSIBLE: Readers looking for a demonic action comedy will enjoy Nora: The Last Chronicle of Devildom.
B+
Last Updated: August 31, 2023 - 08:12