Night Head Genesis: Volume 1
By Leroy Douresseaux
November 18, 2009 - 09:14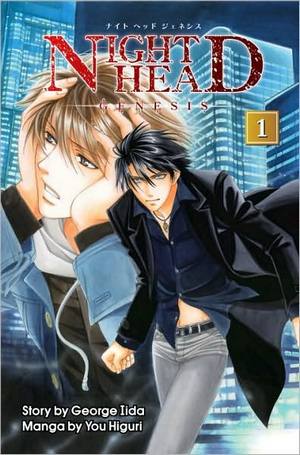 Night Head Genesis Volume 1 cover image is courtesy of barnesandnoble.com.
Rating "OT Ages 16+"
Night Head was a 1992 Japanese television drama, which, in 2006, begat an anime adaptation, Night Head Genesis. Genesis is also a manga, produced by You Higuri, who also did the character designs for the anime series.
In Night Head Genesis, Vol. 1, readers are introduced to the Kirihara brothers, who, because of their paranormal abilities, are cast out by their parents and given into the custody of a research center. Naoto, the older brother by six years, has powerful psychokinetic powers. Naota is protective of his younger brother, Naoya, who is a seer and healer with telepathic and clairvoyant abilities. When Naoya has physical contact with people or objects, those encounters initiate traumatic visions which give him glimpses of the future.
The brothers escape the research center, only to find themselves caught up in the web of a conniving prophet named Tsukasa Kamiya. Kamiya has been having prophetic visions of a doomsday scenario involving the Kirihara brothers and a female research scientist named Kanako Kurahashi. Now, Kamiya's followers are targeting Naota, Naoya, and Kanako – perhaps on Kamiya's orders.
THE LOWDOWN: With its conspiracies, lurking assassins, tumultuous character conflicts, and apocalyptic tone, Night Head Genesis is firmly ensconced in the thriller genre. The looming Armageddon angle, with its requisite secret societies plotting to use the end of mankind to their advantage, is quite interesting, but the heart of this series is the relationship between brothers, Naoto and Naoya. The strong, extroverted, take-charge Naoto balances nicely with the shy, retiring, but troubled Naoya.
Naoya's powers, which manga-ka You Higuri visually depicts in a few panels at time, come as visions filled with disconcerting and troubling images. When Naoto uses his powers, it's visually reminiscent of Jean Grey/Phoenix/Dark Phoenix unleashing her telekinetic powers in the classic Chris Claremont/John Byrne X-Men. Naoya also tends to fall into his older brothers arms for protection, so Night Head Genesis sometimes seems like a boys' love take on Sam and Dean Winchester of the television series, "Supernatural." So as a doomsday thriller and brotherly drama, this series has potential.
POSSIBLE AUDIENCE: While it can be categorized as a shonen manga (comics for teen boys), Night Head Genesis also has a shojo (comics for teen girls) vibe.
B+
Last Updated: February 5, 2023 - 09:06