Toys / Comics to Toys / Marvel Legends
X-men II - Nightcrawler
By Hervé St-Louis
June 29, 2003 - 16:56
Let's face it, Nightcrawler has always been a poor's man Spider-man, albeit, with beautiful action figures. The latest X2 six inch Nightcrawler action figure from Toy Biz is not a poor's man Spider-man though. The figure was release just before the highly rated and successful X2: X-Men United movie. They also released another 12-inch variant, for hardcore collectors. They probably based on it the same sculpt.
Likeness
The great thing about Toy Biz movie-related figures, is that they resemble the actors very much. I know that in the past, Toy Biz has used a 3D scanning technology to capture the features of the actors, before rendering them into action figures. After the actor's features are captured digitally, a laser gun melts the soft material base to sculpt the features. The sculptor can then clean up the base sculpt and add details.
Whether Toy Biz used that technique for the Nightcrawler figure, I don't know, but resemblance is uncanny (pun intended). The face of the figure is truly that of Nightcrawler's performer, British actor Alan Cummings. Nightcrawler's suit is tailored directly on the mutant featured in the summer blockbuster. I have always liked when my figures had distinctive looks. Nightcrawler is a joy in this area.
Sculpt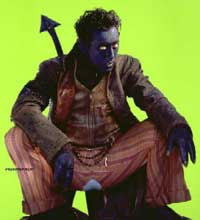 Of course, a figure so well designed, had to be well sculpted. Here Nightcrawler is given a dynamic pose, mouth open. One can pose this figure to crawl easily. However, putting him in a running position on his hands and legs, like in the introduction segment of the movie, is difficult. At best, Nightcrawler just squats. Although this is a super articulated figure, Toy Biz did a better than usual, covering articulations.
Nightcrawler is thin and not bulky, as in the movie. He leans forward, almost crouching. Toy Biz did not design the figure in a heroic stance. You can play a lot with his hands and feet, trying to capture the perfect look. Nightcrawler's tail makes it possible to pose the character upside down or in any other position, if you want. Another plus, is the etched texture on Nightcrawler's coat.
Paint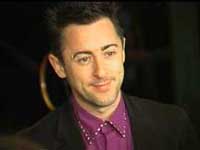 Many complain about the paint job of Toy Biz figures. They are not even, on this figure too, but I prefer them to DC Direct. There are more hues and variations. For example, Nightcrawler's coat and jacket look like real worn leather. His striped pants feel dirty, instead of just plain red and white. Although the stripes are not well aligned everywhere. His nails are dirty. More hues in the hairs would have been better.
Scale
Nightcrawler is proportional to other X2 action figures. There were some concerns that the X2 batch was not proportional with the figures from the first movie. I could not verify that information yet. Being a six incher, Nightcrawler will fit with DCDirect figures, and recent Toy Biz legends.
Standing Upright
Because of the angle of Nightcrawler's right foot, his knees must always bend, for the figure to stand. You can unbend the knees, but letting him stand up will be impossible. However, the figure offers people who like to customize action figures' poses, many choices. Often, after fiddling with an action figure, you soon discover what will let it stand well, and what will cause problems. Not with Nightcrawler.
I've had this figure for close to a month, and there are still things for me to learn about posing him, so he doesn't fall. In some position, one can topple him easily, he others he is sturdy. The best part is that, he doesn't even need to be standing up, if you have problems with him. Once can use his tail to anchor him somewhere, or on his church window diorama.
Articulation
I counted 32 points of articulations on this figure. There may be more. This figure has points or articulations designed to mimic the flexibility of the character. Instead of having one elbow articulation, he has two. Ditto for the knees, the belly and the neck. They really add another dimension of poseability to the character. However, some multiple points make the figure fragile like the points in the wrists.
One must not forget Nightcrawler's tail, which contains soft rubber but contains a bendable metal wire inside. The character's tail can bend in many directions. My only major complaint, regarding the articulation is the above-mentioned right ankle, which leans forward too much, making it impossible to assume a vanilla pose.
Plastic
Toy Biz uses better plastic than DCDirect. Their plastic seems hollow inside, but better suited for kids. The plastic also allows the figure to stand up better, because it is lighter. Nightcrawler's coat, contains a leather like rubber compound. Don't pull too much on it, or let your girlfriend try to "undress" your figure. It could tear.
Diorama
Nightcrawler comes with a diorama of a church window with a wooden frame and stained glass. One must assemble it manually. Once completed, however, you can bend Nightcrawler's tail to any of the wooden planks. The diorama doesn't make much architectural sense, but it's still a nifty ensemble that one can pin on a wall easily. It 's a great decoration and eye catcher. The wooden planks contain rubber.
Packaging
The packaging for Nightcrawler is tight. The front of card has the X2 logo, while the back contains instructions on assembling the wall mountable base and pictures of other figures from this wave. It's good that Toy Biz uses minimal packaging. It adds less cluttered and is better for the environment.
Cost
Toy Biz' prices are better than DC Direct's. The figure comes with far more props and articulation than a single DCDirect figure. This is priced just under a standard DCDirect figure. Had DCDirect produced this, they would have priced it as a Deluxe figure. However, I have to note that Toy Biz distributes most of its toys to retail stores outside the direct distribution system established by Diamond.
Availability
I heard horror stories of scalpers working in retail stores sniping all recent released. This is a bummer. However, I think that finding Nightcrawler should not be difficult. It is available in many retail stores on and off the internet. What's odd, is that I haven't seen much in comic book shops, on or off the Internet? However, movie-related figures can often be found a few months later in the cheap bin of general stores.
There have been a few
Nightcrawler figures
in the past, based on the comic book look. However, none has been as sweet and nice as the movie related stuff we're getting now. Therefore, this figure might interest casual fans who really dig the non comic bookey look. The pants alone should attract many teenage girls who dress the same (those 1970s pants are back in fashion).
Last Updated: August 31, 2023 - 08:12