Vocalekt Visions at 2012 J-Pop Summit Festival
By The Editor
August 2, 2012 - 09:05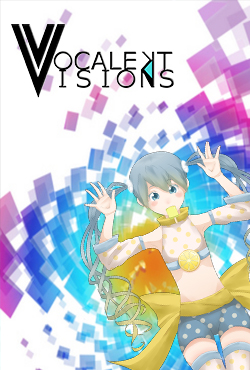 Vocalekt Visions image
2012 J-POP SUMMIT FESTIVAL WELCOMES VOCALOID CONCERT GROUP VOCALEKT VISIONS FOR A SPECIAL HOLOGRAPHIC LIVE EVENT
One-Night Only Music Event Featuring Hatsune Miku And Other Vocaloid Stars Will Be Complemented By A Live Dance Performance At The Annual San Francisco Japanese Pop Culture Celebration In August
NEW PEOPLE, a dynamic entertainment destination bringing the latest examples of Japanese popular culture to North American shores, celebrates the Vocaloid music phenomenon at the 2012 J-POP Summit Festival as it welcomes Vocalekt Visions to present a special Vocaloid holographic live event, featuring virtual pop star Hatsune Miku, inside the NEW PEOPLE Cinema on Saturday, August 25th. Two shows will be held, at 7:30pm and at 9:00pm; tickets are $15.00. Advance tickets and more information are available at: www.j-pop.com/2012/vocalekt-visions.
Vocalekt Visions is a unique concert troupe, which composes music using Vocaloid software and presents it as a "concert" using a unique HD projection system and special screen to give a smooth, lifelike holographic appearance to Vocaloid singers, as they would normally appear on stage. Also complementing the Vocalekt Visions concert with a live on-stage performance will be distinguished Vocaloid dancers from the Bay Area.
NEW PEOPLE was one of the first venues to expose North American fans to Vocaloid music when it premiered the first Hatsune Miku concert film to be seen outside Japan as part of the 2010 J-POP Summit Festival. The venue also organized and hosted a Vocaloid Music Conference during the 2011 J-POP Summit. Hatsune Miku is a virtual pop idol that has taken Japan by storm and was born as the premiere product based on the Vocaloid 2 technology developed by YAMAHA. The technology, originally designed for professional musicians, enables users to synthesize singing by inputting lyrics and a melody.
The 2012 J-POP Summit Festival commences with the theme of "Cyberpop Overload!," and will be held across San Francisco's Japantown, in association with the Japantown Merchant Association, on Saturday, August 25th and Sunday, August 26th. A dedicated web site is now available at J-Pop.com and features regular updates on newly added artists, events and other programming.
Vocalekt Visions was founded by music producers Tempo-P and NeutrinoP in 2011. The pair serves as Vocaloid evangelists, appearing at many anime and J-Pop events to showcase the Hatsune Miku vocaloid software first developed in Japan by Crypton Future Media, present public lectures, and host holographic live concerts of their music. Tempo-P will appear in-person at J-POP Summit to lead the Vocalekt Visions concert.
Previous Vocalekt Visions' music and holographic concerts have sold out in San Francisco, San Jose, Los Angeles, New York and Romania. As official supporters of Mikubook (Crypton Future Media's video sharing site) and endorsed by AHS Co., Ltd, Vocalekt Visions have continued to gain the attention of many Vocaloid companies based in Japan.
More information about Vocalekt Visions is available at: www.vocalektvisions.com.
About J-POP SUMMIT FESTIVAL
The J-POP SUMMIT FESTIVAL is an annual Japanese Pop Culture celebration that features live bands and artists from Japan, pop culture panel discussions, film premieres, fashion and DJ dance events, and celebrity appearances. The Festival is hosted by NEW PEOPLE in cooperation with the Japantown Merchants Association. In 2011, the two-day event attracted 55,000 attendees. More information about the J-Pop Summit Festival is available at J-Pop.com.
About NEW PEOPLE, Inc.
Based in San Francisco, California, NEW PEOPLE, Inc. (www.newpeopleworld.com) offers the latest films, art, fashion and retail brands from Japan through its unique entertainment destination as well as through licensing and distribution of selective Japanese films. NEW PEOPLE Entertainment (www.newpeopleent.com), a film division of NEW PEOPLE, Inc. strives to offer the most entertaining motion pictures straight from the "Kingdom of Pop" for audiences of all ages, especially the manga and anime generation, in North America. Some titles include DEATH NOTE, GANTZ, KAMIKAZE GIRLS, and THE TASTE OF TEA.
Last Updated: February 5, 2023 - 09:06