Negima!? neo: Volume 01
By Leroy Douresseaux
June 24, 2009 - 10:47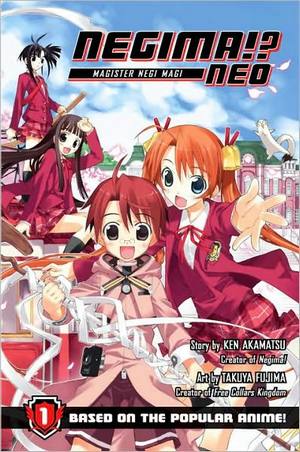 Negima!? neo Volume 1 cover image is courtesy of barnesandnoble.com.
Rating "OT" for "Ages 16+"
Negima! Magister Negi Magi is a manga created by Ken Akamatsu (the creator of Love Hina) that follows the adventures of a Welsh preteen wizard who teaches at an all-girls high school in Japan. The series spawned several anime productions. One of those was an anime series entitled Negima!?, which re-imagined the concept. Produced by manga-ka Takuya Fujima, Negima!? neo is the manga inspired by the Negima!? anime.
Negima!? neo, Vol. 1 introduces 10-year-old Negi Springfield, who is the greatest prodigy to ever graduate from his magic school in England. Negi dreams of becoming a Magister Magi (master mage), so that he can better protect the ones he loves, which he hopes will in turn also lead him to his father, the legendary mage, Nagi Springfield.
After graduation, Negi is assigned is to teach English at Mahora Academy, an all-girls junior high school in Japan. There, Negi must find a way to deal with 31 beautiful girls who are often over-affectionate towards him. One of the girls, however, doesn't like Negi. She is Asuna Kagurazaka, a spunky redhead who thinks Negi is too young and too dumb to be their teacher. And Negi must perform his assignment without using magic.
THE LOWDOWN: Although the original Negima! is the creation of Ken Akamatsu, known for the fanservice heavy Love Hina, Negima!? neo is a broad comic fantasy that encompasses several genres, including action, horror, and science fiction. There is some T&A and enough sexual innuendo to earn it the "Older Teen" rating; if not for the fanservice, however, the narrative's lack of sophistication marks it as a fantasy series for at least junior high school readers.
Takuya Fujima's art for this series is busy, with practically every panel bursting with everything from characters and backgrounds to explosive effects and action lines. This is reflected in a busy story in which the author tries to squeeze introducing plots, sub-plots, several settings, and multiple characters into two chapters, and the story still feels empty. It's not until the third and fourth chapters, which involves a mischievous student who is also a vampire, that Negima!? neo solidifies and starts to make sense. The series may improve, but the beginning is quite awkward.
POSSIBLE AUDIENCE: Negima! fans may like Negima!? neo.
C+
Last Updated: February 5, 2023 - 09:06