Naoki Urasawa's 20th Century Boys: Volume 1
By Leroy Douresseaux
February 11, 2009 - 14:08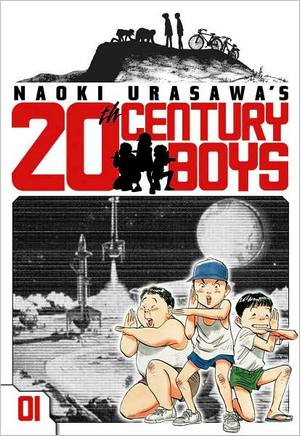 20th Century Boys 1 cover image is courtesy of barnesandnoble.com.
Rated "T+" for "Older Teen"
He runs the family business (a convenience store), but few people, including his mother, think he's doing that well at it. He also takes care of Kanna, the infant daughter his sister abandoned before she disappeared. Kenji is a failed rock musician, and something in his past is perhaps behind the rise of a bizarre new religious cult.
In Naoki Urasawa's 20th Century Boys, Vol. 1, Kenji finds memories of the distant past rushing back when one of his childhood friends, a boy they called "Donkey," who was now a teacher, commits suicide. Kenji's impromptu investigation in death Donkey's death reveals that a symbol, which he and his friends created as children, has suddenly started appearing all over the city. A gathering of his old pals: Yoshitune, Keroyon, Mon-chan, and Otcho for the funeral may be the best time to start to learn the truth behind Donkey's death.
THE LOWDOWN: The third week of February 2009 is a super duper one for comic books. That's when two English-language editions of manga by the incomparable Naoki Urasawa debut. Pluto: Urasawa × Tezuka, a reinterpretation of a story by Osamu Tezuka, and the time-spanning, mystery thriller 20th Century Boys will offer readers two challenging, hugely-entertaining, and rewarding comic book works.
20th Century Boys doesn't seem headed for a revelation like the one in Urasawa's sublime Monster, nor does the narrative plumb the depths of what it means to be human in a future where robots live as humans the way Pluto does. 20th Century Boys is similar to those Stephen King stories in which King presents a group of adults who face some fantastic problem or complication with roots buried deep in the group's past – such as in the novels, It (1986) and Dreamcatcher (2001). However, in 20th Century Boys, the conundrum/difficulty is not supernatural or doesn't appear to be this early in the narrative. What we can learn this early in the story is that Urasawa is brilliant at composing detailed psychological thrillers acted out by a large cast of supremely crafted characters.
POSSIBLE AUDIENCE: Fans of Naoki's Monster or Alan Moore & Dave Gibbons' Watchmen will like 20th Century Boys.
A
Last Updated: June 23, 2021 - 00:45