David Heatley's My Brain is Hanging Upside Down
By Leroy Douresseaux
October 1, 2008 - 11:47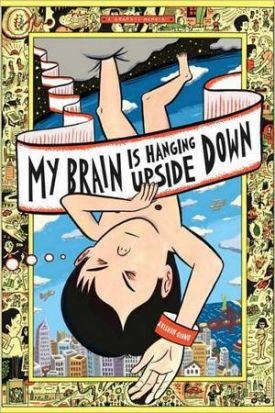 This cover image of My Brain is Hanging Upside Down is courtesy of barnesandnoble.com.
My Brain is Hanging Upside Down is a hardcover collection of the comix of David Heatley, a cartoonist who has appeared in The New York Times (Op-Ed page) and the New Yorker. Heatley has also contributed to a number of comix anthologies, and portions of this book have appeared in Kramer's Ergot, McSweeney's, and Mome, among others.
My Brain is Hanging Upside Down reminds me of those Joe Matt comic books that I read for much of the 1990s. Matt didn't so much open the door to his life has he pulled the covers away from the grubbiest or most distasteful parts of his life (such as his addiction to pornography). Alternative-autobiographical cartoonists rely on the fact that a – relatively speaking – sizeable audience will be interested in the dysfunctions of their lives – past and present. Many readers find the often shocking and sometimes odious revelations of the Joe Matts and David Heatleys of the cartoon world fascinating, if not occasionally nauseating. This kind of material, however, without any serious regard on the part of the cartoonist, for what it offers can be as empty as a Hollywood, big budget, special effects-laden, event movie.
In My Brain is Hanging Upside Down, David Heatley offers his past in a series of vignettes that is dizzying in its quantity and bracing in its subject matter. It is a memoir of events in Heatley's life, rather than autobiography that takes a look at an entire life. The book is divided into five sections, each one focusing on an aspect of Heatley's past. "Sex History" is a recollection of sexual thoughts, urges, acts, etc.; "Black History" is a likely incomplete catalog of the Black folk Heatley has known and encountered. "Portrait of My Mom," "Portrait of My Dad," and "Family History" are vignettes about his family.
The most… interesting and controversial material is in "Sex History" and "Black History." It's not that I think "Sex History" is dishonest – as a reader I can certainly question his memory about events and people – it's that I wonder about the presentation. Taken at face value, "Sex History" is a chain of comic strips about sex acts that are more rank and raw, rather than being filtered for anything of intellectual or artistic value. "Black History" is much the same. Heatley's remembrance of his relationship with African-Americans is so matter of fact that it sometimes comes across as bigotry by default – a simple compilation of embarrassing episodes.
As much as I like watching what at times seems like a train wreck, what My Brain is Hanging Upside Down lacks is nuance. Heatley is an artist who thinks but is not thoughtful and is creative without imagination. Yes, his crude drawing style is deceptive. People might think that he can't draw, but what he can't draw is the unfathomable and profound from the unique encounters with which his life seems uncommonly blessed. The material is all killer, but there is little or no substantive filler or context.
B
Last Updated: September 6, 2021 - 08:15