Comics / Comic Reviews / More Comics
Fred Van Lente's Brain Boy #1 Review
By Andy Frisk
September 2, 2013 - 22:15
Back in the early 1960s, near the dawn of the silver age of comics, Dell Comics published a short run comic book series created by Herb Castle and Gil Kane titled
Brain Boy
. The story revolved around a young government operative named Matt Price. Price had super powered telekinesis and telepathy and fought against the enemies of the "Free World" such as Communist dictators from South America and the Caribbean as well as Soviet Bloc super spies endowed with their own mental super powers. The series is a wonderful mash up of James Bond type Cold War espionage and wild and zany 1950s paranoid sci-fi. It only lasted 6 issues (a hardcover reprint of those issues is available from Dark Horse though). The incredibly talented Fred Van Lente, whose works are not only laugh out loud funny with their satire and humor, but are intelligent and relevant, has resurrected this vestige of an early Silver Age blend of 50s sci-fi, paranoia, and spy thriller for a new generation. Not only is Dark Horse Comics' and Fred Van Lente's
Brain Boy
#1 immensely entertaining, it brilliantly demonstrates that the more as things change, the more they stay the same.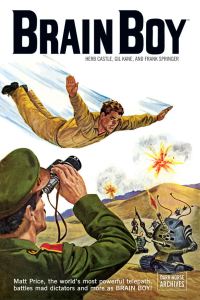 Matt Price is an agent of Albright Industries on loan to the United States Secret Service and is the world's most powerful telepath. He uses his powers of telepathy, telekinesis, and all around brain reading savvy to safeguard international dignitaries who visit the US. In this particular case at hand, Price is tasked with safeguarding President Ricorta. Ricorta is the socialist president of a South American country that is a major oil exporter and ally of North Korea. Price, intrigued by a cryptic message from a CIA operative, meets with said operative just before taking on his duties guarding Ricorta and learns that there is more to his parents' story than he ever knew, but the knowledge of his parents' saga comes with a price. He must scoop certain information from Ricorta's brain. Ricorta isn't your regular run of the mill megalomaniacal third world dictator though...and will undoubtedly prove to be more than "Brain Boy" (as he's derogatorily called by the CIA operative) expected.
Van Lente smartly re-introduces the classic Dell
Brain Boy
storyline (super powered US protector of the "Free World" vs. the evil Commie dictator to the South) and shows how the same old Cold War fears live on under new monikers in the contemporary world. Instead of the USSR and Cuba being the Communist enemies of the West, it's North Korea and a very Venezuelan type dictator who are the bad guys. The more world geopolitics change the more they stay the same huh? Just like the more superhero comics have changed and grown over the decades the more they've stayed the same as well.
Brain Boy
is a wonderful revival of the fears and political posturing of the early 1960s retold under the guise of contemporary fears of crazy Commie dictators with nukes and their zany South American proteges. I seriously cannot wait to see what Van Lente comes up with next in the pages of
Brain Boy
. If it's half as brilliant and relevant as his work over in Valiant Comics'
Archer & Armstrong
,
Brain Boy
will become his next must read series.
Bringing Van Lente's story to life is the highly talented sequential artist R.B. Silva. Silva's sharp pencils, highly detailed style, and sharp sense of body language and anatomy are brilliant. His depiction of Ricota's mental image of himself as a Jesus Christ like "let the little children come unto me" is priceless. Also priceless are his depictions of Brain Boy in action. The use of Xavier like halos and mental manifestation blasts is just plain old awesome.
Pretty much anything from Van Lente is worth reading for it's humor, heart, and wit.
Brain Boy
looks like it's going to be another Van Lente classic.
Rating: 10 /10
Last Updated: May 19, 2020 - 12:25