Moonstone Books Joins The Phantom and Captain Action
By The Editor
November 19, 2009 - 08:23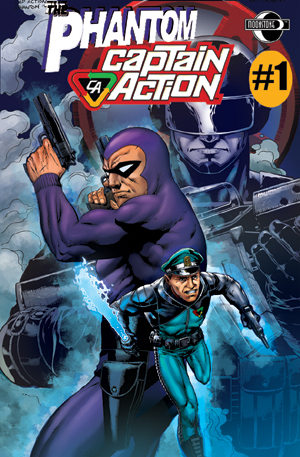 The Phantom-Captain Action #1 cover
PHANTOM-CAPTAIN ACTION #1 (of2)
Story: Mike Bullock, Art: Reno Maniquis
Cover A: Art Thibert, Cover B: Mark Sparacio, Cover C:Michael Gilbert
32pgs, color, $3.99
Together again for the first time!
The Phantom and Captain Action were forever united in the 1960s when the original Captain Action toy was released with a Phantom costume, allowing Cap to transform into the Ghost Who Walks. Now, for the first time, the two timeless titans collide in the first concussive crossover ever created.
When an international intelligence cartel makes a surgical strike for global control, UN committee member Diana Palmer-Walker and her legendary husband are all that stands in their way, but when the Ghost Who Walks goes missing, the only one Diana can turn to is none other than - Captain Action!
Don't miss history in the making!
(Covers A & B available separately)
**RETAILER INCENTIVE: for every 5 copies purchased (total of covers A&B), the retailer can purchase one copy of the Michael T. Gilbert variant, retail = $3.99
***If a total of 8 or more copies are purchased (of a total of covers A,B & C), then the retailer can order one FREE copy of Cover C!
Last Updated: September 6, 2021 - 08:15