Monochrome Factor: Volume 1
By Leroy Douresseaux
Jan 16, 2008 - 13:24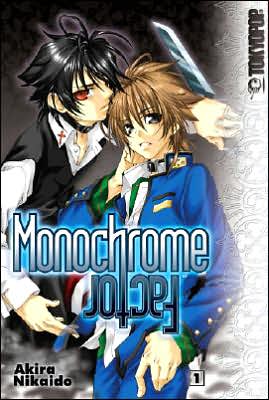 Thanks to barnesandnoble.com for the image.
Missing as much class as he attends, typical high school slacker,
Akira Nikaido
is about to enter the world of shadows in
Monochrome Factor

, Vol. 1
.
A mysterious older man, calling himself Shirogane, requests that Akira meet him that night at Kiriba Private High School. Although Akira refuses, circumstances cause him to be there, where Akira is attacked by one of the Kokuchi, a race of monsters from the Shadow World. Shirogane convinces Akira that the balance between the human world (or light world) and the Shadow World is imbalanced. Reluctantly, Akira allows Shirogane to transform him into what Shirogane is, a "Shin, a warrior creature of the shadow world. The imbalance continues, and soon Akira's friends and colleagues are touched by Shadow.
THE LOWDOWN: Monochrome Factor is certainly a beautiful blend of black and white comics, grayscale, monochrome, and shadows. With elegant character drawing and a selection of costumes and clothes that could pass for a preppy fashion catalog, Kaili Sorano makes his characters an attractive lot of slackers. Also, practically every page is a symphony of beautiful toning, but…
The concept (a war between the light and dark) is not at all new, and that's especially a problem when the execution is poor, which is the case here. The characters are ciphers, and the concept's internal logic springs leaks on a regular basis. That the art is so pretty only makes the writing's faults all the more glaring. There's potential here, but Sorano will have to make the narrative at least try to be half way as good as the illustrations, and that's asking a lot.
POSSIBLE AUDIENCE: This goth-flavored, emo-infused shonen may appeal to readers looking for dark fantasy more on the action side.
B-
Last Updated: Jun 26, 2018 - 9:28