Mobile Suit Gundam Thunderbolt: Volume 5 manga review
By Leroy Douresseaux
November 30, 2017 - 22:14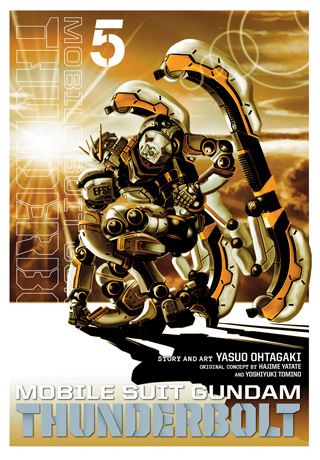 Mobile Suit Gundam Thunderbolt Graphic Novel Volume 5 cover image
Rated "T+" for "Older Teen"
The science fiction manga,
Mobile Suit Gundam Thunderbolt
, is set in the classic science fiction universe of Mobile Suit Gundam. It apparently takes place simultaneously with the events depicted in the original "Mobile Suit Gundam" anime. Created by mangaka
Yasuo Ohtagaki
, this manga focuses on two rival mobile suit (MS) pilots,
Io Fleming
of the
Earth Federation
and Chief Petty Officer
Daryl Lorenz
of Zeon, each bent on destroying the other.
Mobile Suit Gundam Thunderbolt

, Vol. 5
(Chapters 38 to 43) opens in the aftermath of the intense battles of the Thunderbolt sector. Now, the Earth Federation and the
Principality of Zeon
remain at war, but a new player has entered the game, the warrior monks of
Nanyang Alliance
. Daryl Lorenz begins his first battle against the Alliance.
Meanwhile, Zeon forces launch a special mission to utterly destroy the Federation vessel, "
Spartan
." "
RX-78AL Atlas Gundam
" enters the fray.
[This graphic novel includes the "side story," "Sean, the Desert Rat," Part 1 and 2.]
THE LOWDOWN:
For some reason, I thought that I was about to read a volume of the Mobile Suit Gundam Thunderbolt manga that would not thrill me, please me, entertain me like previous volumes. Nope, this series remains a blast to read.
Mobile Suit Gundam Thunderbolt Volume 5
focuses less on the "horrors of war" as previous volumes did. This volume has an emphasis on introducing new players to this incredible mobile suit slash mecha war. Writer-artist Yasuo Ohtagaki focuses on revealing character and personality to the readers, and he even offers interesting background details (like grudges and bitterness among some of Fleming's fellow warriors). Mobile Suit Gundam Thunderbolt is a bracing, thrilling read and is one of the best comic books being publishing in North America today.
I READS YOU RECOMMENDS:
Readers looking for classic mecha manga will want the VIZ Signature title,
Mobile Suit Gundam Thunderbolt
.
A
9.5 out of 10
Rating: 9.5 /10
Last Updated: September 6, 2021 - 08:15