Mobile Suit Gundam Thunderbolt: Volume 4 manga review
By Leroy Douresseaux
August 26, 2017 - 06:53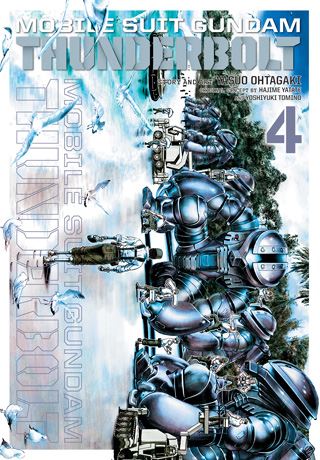 Mobile Suit Gundam - Thunderbolt Volume 4 cover image
Rated "T+" for "Older Teen"
The science fiction manga,
Mobile Suit Gundam Thunderbolt
, is set in the classic science fiction universe of Mobile Suit Gundam. It apparently takes place simultaneously with the events depicted in the original "Mobile Suit Gundam" anime. Created by mangaka
Yasuo Ohtagaki
, this manga focuses on two rival mobile suit (MS) pilots bent on destroying each other.
As
Mobile Suit Gundam Thunderbolt

, Vol. 4
(Chapters 29 to 37) opens, forces of the
Earth Federation
and the
Principality of Zeon
have shattered themselves in the Thunderbolt sector. Now, they throw themselves into the battle of "
A Baoa Qu
." At the end of the "
One Year War
," will there be anything left of either side?
THE LOWDOWN:
The Mobile Suit Gundam Thunderbolt manga is thoroughly enjoyable even if you, dear readers, are not familiar with the original Mobile Suit Gundam. Thunderbolt can thrill any science fiction comics reader, perhaps even readers of military science fiction.
Mobile Suit Gundam Thunderbolt Volume 4
, like the previous volume, depicts the "horrors of war" in all its bloody, meat grinder excesses. There is a sequence depicting the disposal of human remains that is poignant, even troubling on an emotional level. Mobile Suit Gundam Thunderbolt is a bracing, thrilling read, but its depiction of the futility and futile destruction of endless war make it one of the best comic books being publishing in North America today.
I READS YOU RECOMMENDS:
Readers looking for classic mecha manga will want the VIZ Signature title,
Mobile Suit Gundam Thunderbolt
.
A
9.5 out of 10
Last Updated: September 6, 2021 - 08:15