Mobile Suit Gundam Thunderbolt: Volume 3 manga review
By Leroy Douresseau
May 15, 2017 - 11:55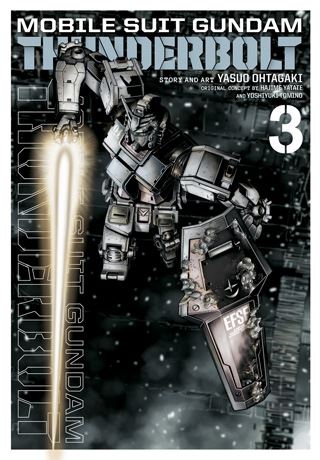 Mobile Suit Gundam Thunderbolt Volume 3 cover image
Rated "T+" for "Older Teen"
The science fiction manga,
Mobile Suit Gundam Thunderbolt
, is set in the classic science fiction universe of Mobile Suit Gundam. It apparently takes place simultaneously with the events depicted in the original Mobile Suit Gundam anime. Created by mangaka
Yasuo Ohtagaki
, this manga focuses on two rival mobile suit (MS) pilots bent on destroying each other.
As
Mobile Suit Gundam Thunderbolt

, Vol. 3
(Chapters 20 to 28) opens, the
Earth Federation
assault against the
Principality of Zeon
in the
Thunderbolt Sector
rages on. This attack however has become a fiasco as the Federation's squadron of young, inexperienced MS pilots have flown into the teeth of Zeon's defenses with their MS hero,
Io Fleming
. Soon, Fleming has engaged Zeon's top sniper,
Chief Petty Officer Daryl Lorenz,
is in a bloody one-on-one battle that will leave one of them a prisoner.
THE LOWDOWN:
I continue to enjoy the Mobile Suit Gundam Thunderbolt manga, although I am only vaguely familiar with the original Mobile Suit Gundam (mostly from seeing images and art related to it as a media and merchandising franchise). Thunderbolt can thrill any science fiction comics reader.
Mobile Suit Gundam Thunderbolt Volume 3
, like the previous volume, depicts the "horrors of war" in all its bloody, meat grinder excesses. Patriotism becomes personal destruction, and the struggle to survive comes in desperate fits and starts. To put it simply, Mobile Suit Gundam Thunderbolt is a bracing, thrilling read.
I READS YOU RECOMMENDS:
Readers looking for classic mecha manga will want the VIZ Signature title,
Mobile Suit Gundam Thunderbolt
.
A
Rating: A /10
Last Updated: September 6, 2021 - 08:15