Mobile Suit Gundam Thunderbolt: Volume 2 manga review
By Leroy Douresseaux
Mar 4, 2017 - 22:20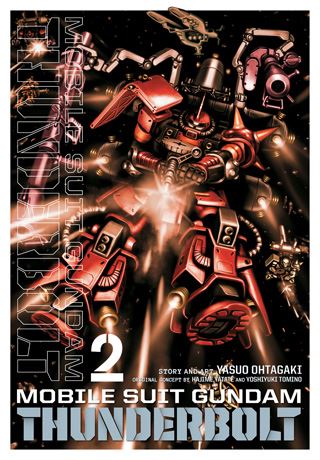 Mobile Suit Gundam Thunderbolt Volume 2 cover image
Rated "T+" for "Older Teen"

Mobile Suit Gundam Thunderbolt is a manga set in the classic science fiction universe of Mobile Suit Gundam. It apparently takes place simultaneously with the events depicted in the original Mobile Suit Gundam anime. Created by mangaka
Yasuo Ohtagaki
, this manga focuses on two rival mobile suit pilots bent on destroying each other.
Mobile Suit Gundam Thunderbolt

, Vol. 2
(Chapters 10 to 19) opens to find both the
Earth Federation
and the
Principality of Zeon
in desperate straits. Attrition of forces has forced both sides to deploy Mobile Suits that are not quite ready for battle. Zeon's "
Reuse P. Device
" (also known as the "
Psycho Zaku
") is rushed into service and forces its top sniper,
Chief Petty Officer Daryl Lorenz
, into making another sacrifice.
Meanwhile, the Federation's Full Armor Gundam is set against Zeon in a bid to hold Federation gains inside the disputed
Thunderbolt Sector
. To do so means barely trained recruits must escort Gundam and its pilot,
Io Fleming
, to a place where it can wreak havoc. This struggle will leave many dead and will turn even more bitter.
THE LOWDOWN:
Although I am vaguely familiar with Mobile Suit Gundam (mostly from seeing images and art related to it as a media and merchandising franchise), I am enjoying the
Mobile Suit Gundam Thunderbolt
manga. It has pretty much convinced me to find the anime.
Mobile Suit Gundam Thunderbolt Volume 2
depicts the "horrors of war" in ways that remind me of the short-lived comics magazine,
Blazing Combat
. To me, Thunderbolt is science fiction/space opera manga done in the spirit the writers and artists brought to Jim Warren's controversial publication. This is also classic mecha action that is as good as any mecha comics that I have read in the past. As he did in the chapters included in the first volume, Yasuo Ohtagaki puts the reader right into the action making
Mobile Suit Gundam Thunderbolt
a bracing read.
I READS YOU RECOMMENDS:
Readers looking for classic mecha manga will want the VIZ Signature title,
Mobile Suit Gundam Thunderbolt
.
A
Rating: A /10
Support this writer on Patreon
Last Updated: Jun 26, 2018 - 9:28