Microsoft Shows Off Blockbuster Xbox 360 Holiday Lineup At X'08
By Eli Green
August 22, 2008 - 11:00
If there is anything I've learned from going to preview events like X'08, Microsoft's annual holiday season preview event for all things Xbox 360 (X for Xbox and whatever year it is), it's that I can't possibly see over 50 titles in the six hours the event runs for. I couldn't even get through the specific titles I went to check out. I'm starting to think that Microsoft needs to consider extending the event to two days, just so everyone can get around to seeing everything, not that I actually expect that will happen. I'm just throwing it out there, really.
I did manage to sit down and try out a number of the games that I've been looking forward to for quite some time, including Gears of War 2 , Mortal Kombat vs. DC Universe and Rock Band 2 , and there were so many more titles there that made my
day. I started out by taking a seat at the new Ion Drum Rocker in Electronic Arts'
Rock Band 2
area. I played my heart out to The Donnas'
New Kid In School
and Survivor's
Eye of the Tiger
. I wasn't actually expecting anything particularly different in the gameplay aside from the fact that I now had to play with the cymbals, if I so chose. I wasn't very impressed with what I saw with the Drum Rocker. The drum pads were nice and quiet, had great rebound, and the pedal was superb, but the cymbals didn't appear to work very well, if at all. It could very well be that they were not set up properly, but if people are going to be getting their first impressions of the unit there, you would hope that they would make sure it was in top shape. I was quite happy to see that the background during gameplay still looked as realistic as in the original
Rock Band
. I find that to be a very important aspect of
Rock Band
, as it is one of the major things that sets it apart from the
Guitar Hero
franchise, especially now that
Guitar Hero
has drums and a microphone.
I found it a bit odd that Electronic Arts decided to go with the Drum Rocker kit to demonstrate the game instead of the official Rock Band 2 drum kit. If they went through all the trouble to improve the kit – you'll hear Paul Morassutti from EA talk about all of the new improvements to the peripherals in our video interview coming later this month – why wouldn't they have it there? One new piece of official Rock Band 2 equipment EA was showing though, was the new guitar, which features a camera and sensor so players can auto-calibrate the game to their television while playing. It's a very cool feature, and a rather ingenious one at that. I can say that I am still very excited for this game's release this fall.
Since we're already talking about music rhythm games, I may as well continue by

talking about
Guitar Hero World Tour
. Having already invested
more than enough
time
with
previous titles
in the franchise, I was quite confident in the quality of the guitars
already, and that confidence was reassured, but I wasn't so sure about the drum kit,
thinking there might be similar weaknesses seen in the original
Rock Band
drum kit. Those worries were soon cast away as I sat down and played Foo Fighters'
Everlong
and Bon Jovi's
Livin' On A Prayer
. After trying that kit out, I'm quite confident that it can take a beating. I also tried out the singing for a bit, just to see how Neversoft went about it. The constantly scrolling style looked a bit odd, as the vocal track is essentially a constant rising and falling line with bold areas where your notes are. I understand that the non-bold areas were the parts left to make sure that switching from higher to lower notes, or vice versa, is more organic, but I think this would have been one area where the development team should have completely followed the rest of the crowd and simply left the areas where there are no words completely blank, leaving the areas where singers have to quickly switch tones to as trails which calculate the general accuracy of that switch. Between
Rock Band 2
and
Guitar Hero World Tour
, I'd still go with
Rock Band 2
at the moment.
Guitar Hero World Tour
still looks like its cheesy-styled predecessors. The drum kit may sway my opinion, but I'll have to wait and see until I can size them up, side by side.
I tried out
Scene It? Box Office Smash
for a few minutes. I was rather pleased with
Scene It? Lights, Camera Action
, so I was excited to get a chance to test my hand at some fresh movie trivia.
Box Office Smash
appears to have considerably simpler styled graphics than
LCA
, as it essentially looks like the developers went with very "Wii party game-style" graphics. It's just another clear sign of Microsoft's attempt to get mainstream and casual gamers into playing on the 360. I'm not going to chew them out for it. Everybody wants market share. Aside from my slight gripe with the graphics in the game, the gameplay was just as fun as in
LCA
, so I think it will be something to look forward to when it releases. It's one of those types of games that is very hard not to get into, because it appeals to almost everybody and is easy to pick up. Even if you say you don't like movies, it's probably because you just don't like the offerings that are out there now. Trivia is still fun, and the excitement that can build up while playing games like this is contagious.
Next came
Gears of War 2
and a short interview with Epic Games' Project Director, Cliff "CliffyB" Bleszinski. Having never really played
Gears of War
for more than just a few minutes, I wasn't really sure what the experience would be. We weren't allowed to play the solo campaign and Cliff was so busy being interviewed that he wasn't able to run through the solo demonstration with me. All that was available to be played was a five-on-five COG vs. Horde battle where the objective was to wipe out the other teams leader and then take out the rest of the enemy team. I've never had so much in multiplayer combat before. The game can only be called gruesome, but it's so much taking your opponents down with a rifle, shotgun, sniper rifle or, better yet, ripping them apart with a chainsaw.
After a few minutes with Gears 2 , I took some time to talk to Jerret West from Xbox about Fable II . Most of that time was spent with him running through the different features of the gameplay, so I'm going to highly suggest you check out the interview and gameplay demonstration videos once they are online. Fable II looks like it's going
to be every
Fable
fan's dream game. It's still got the classic "every action has a reaction" gameplay, but now players can live through an entire lifetime in game, from childhood to adulthood and on. Players don't even have to go on quests if they don't want to. They could grow up, raise a family and become average working folk. The possibilities almost seem endless.
I went on to Midway's area later on, to check out Mortal Kombat vs. DC Universe . I know this is likely a game that a lot of comic book enthusiastic gamers have been wondering about and I will say one particular thing about it. It really does feel like a Mortal Kombat game. The difference is that they have now added in some DC Comics characters and some interesting new power moves and a close kombat mode. I was, however, a bit surprised to find that Superman's close combat move was a cheap shot knee to the groin. It didn't quite seem right. It was pretty fun, though I'm sure if I actually knew how to pull off some of the cooler moves, I would have enjoyed it a lot more. If you're into fighting games, this will definitely be something to check out. At the very least, it looks like it should be a popular rental. If you're not a fan of fighters, I don't really see this changing your preferences, unless you're into DC Comics.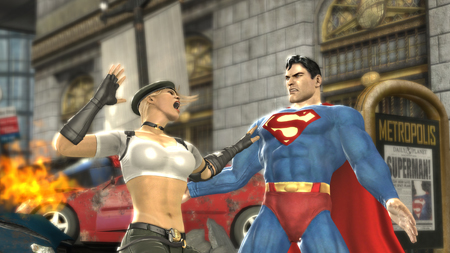 The Midway rep also walked me through an Ultimate X match in TNA iMPACT! , a match where two wrestlers have to climb up a cross section of ropes to grab an X, or possibly a championship belt, from the middle of the cross section. I've got to say, I'm not into wrestling or wrestling video games myself, but it did look pretty cool. If you watch TNA, then I'm guessing you're going to enjoy this. The game features a lot of motion capture,
so all of the moves, including the wrestler entrances, are realistic. There will also be multiplayer for up to three players, including play over Xbox Live.
Closer to the end of the day, I headed over to the Ubisoft area to check out Shaun White Snowboarding . I ended up speaking to one of the developers from the Naruto: The Broken Bond team, and he did a quick run through of the game's demo. I must say this. I don't watch Naruto on television, I don't read the comics, and I don't play the card game, but Wow, that game looked beautiful. It's got the perfect fusion of cel shaded graphics on the characters and various other elements, while still having regular 3D world design. It is visually stunning. One of the cooler aspects of the gameplay in The Broken Bond is the team puzzles. Players will have to learn each of their team members' strengths and weaknesses, and each of their powers to learn the best way to solve each puzzle. It's not just an adventure game, but a fighting game as well, and some of the moves players will be able to pull off are just insane. Picture copying yourself 40 times and having each copy attack one after the other, or in teams. Of course, I don't know the characters' powers, but since they had to stay true to the creators' original design, I can only assume that these are the kind of moves the characters pull off in the show as well.
I finally got to check out Shaun White Snowboarding and was thoroughly impressed with what I saw. It did appear that there were still some glitches, but it was clear that the game is coming along nicely. It is visually impressive and the move set is pretty large. The styles and number of events players will be able to challenge themselves don't appear to be the big draw for this game though. It seems online play will be stealing the show, because Ubisoft is guaranteeing up to 16 players riding down the mountain simultaneously, online, and the team is apparently shooting for even more. Ubisoft actually consulted with Shaun White for the the game's development, so they're going for the most realistic feel possible, and it looks like they are really going to pull it off.
As far as preview events go, X'08 had more than enough to offer. As I said, I didn't even get to check out some of the games I came to see, like Fallout 3 , Tiger Woods PGA TOUR 09 , Tomb Raider: Underworld, Banjo Kazooie Nuts & Bolts , Star Wars: The Force Unleashed , Spider-Man: Web of Shadows and more. With everything I've seen so far, it looks like the Xbox 360 is going to have a very happy holiday season.
Related Articles:
My Experience with Microsoft Windows 10
Microsoft pulls out all the stops at E3 2009 Xbox 360 Media Briefing
Microsoft Not Sending Free RROD Shipping Boxes – So What?
Microsoft Launches 60GB Xbox Live Starter Pack
Microsoft Seriously Drops Price of Xbox 360
Microsoft Shows Off Blockbuster Xbox 360 Holiday Lineup At X'08
Microsoft To Launch 60GB Xbox 360 In August
Microsoft Drops Price of Xbox 360, Matches Canadian Price to American
Microsoft Announces XBLA Awards
Microsoft Drops Xbox 360 Wireless Networking Adapter Price