The Magdalena #1
By Andy Frisk
April 22, 2010 - 18:08
Top Cow Productions
Writer(s): Ron Marz
Penciller(s): Nelson Blake II
Inker(s): Sal Regla
Colourist(s): Dave McCaig
Letterer(s): Troy Peteri
Cover Artist(s): Ryan Sook
$3.99 US
"Holy Blood. Holy Warrior. The Magdalena bloodline reaches back to Christ himself. In each generation, there is born a daughter who acts as the Church's avenger against supernatural evil."
The Magdalena is one of the few Top Cow Universe heroes that really grabs my attention. She's got a cool back story, a built in history, and a really unique and powerful weapon, The Spear of Destiny. The Magdalena as a series and a concept is so laden with potential, especially considering all the previous historical incarnations of the character that can be explored, that this series could really be great. It could provide its readers with some interesting long term stories full of mystery, intrigue, horror, and plenty of supernatural action. Unfortunately, The Magdalena #1 gives us a rather tired and obvious plot that really doesn't seem worthy of a character with this much going for her.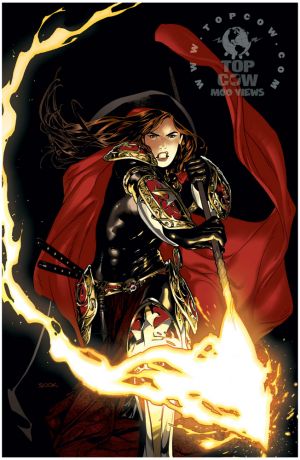 Imagine it. A female warrior nun descended from Christ himself who battles demons and the darkness in men's souls with The Spear of Destiny who is currently a renegade from her superiors within the Catholic Church. She could battle or take on some serious bad guys and topics, what with all the controversy surrounding The Church now. Instead, writer Ron Marz puts her up against her potential replacement and, of course, (for a Christian based hero) the most obvious of enemies, the child Anti-Christ, who (again of course) Patience (The Magdalena) declares she cannot kill because, "I can't murder a child." Okay…he's the Anti-Christ and you are a Bride of Christ…whether or not you agree with your superiors in The Church or not, you should probably be able to muster up enough strength to at least attempt to stop the Ultimate Adversary.
Regardless of the weak start storytelling wise, The Magdalena is still one of the best looking female heroes, even though (or rather because of) she doesn't show tons of gratuitous skin (not that there's anything wrong with that…but most female superheroes are more than "half" naked most of the time). Having The Magdalena remain more or less fully clothed most of the time forces Magdalena artists to come up with some creative battle-suit attire for her. Since she is a Catholic based character and Catholic art is incredibly ornate and sophisticated, her costume accoutrements are as well, and rightly so. Cover artist Ryan Sook and series artist Nelson Blake II do an excellent job of capturing this aspect of The Magdalena. Blake also does a pretty good job creating some great panel filled pages of Vatican City type religious iconography, and his demons aren't the usual run of the mill types visually. He switches gears well when the issue's action shifts to the beaches and waters off of Elba. Artistically, and therefore visually, The Magdalena is in great hands.
I'm not giving up on this series yet. We've only been privy to one issue. It is still one of the most potential laden creations and concepts to get its own ongoing series. Solid art and concepts must be backed up by solid storytelling though. Hopefully, we'll see this in The Magdalena sooner than later.

Rating: 6/10
Related Articles:
The Magdalena #10
The Magdalena #9
The Magdalena #3
The Magdalena #1
Magdalena Daredevil